Before You Arrive (Transfer Students)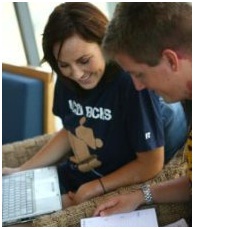 Transfer students, find out what you should do before you arrive on campus.
Visit MyApplication to confirm your documents and records are complete.
Activate and check your UCSD e-mail account — it's the official means of communication on campus.
If you'll be living on campus, update and secure your computer at home before you arrive (and read all the suggestions and tips about connecting to the campus network).
Sign-up for your college's orientation program via the New Student Site to learn about academic resources, campus services, opportunities for involvement, and much more!
Visit your college and department websites to learn more about academic requirements, as well as activities going on within your discipline.
Review the undergraduate degree requirements section of the catalog.
Check to see if you need to take any necessary placement exams before your first quarter.
Review TritonLink — The Academics, Campus Services, Finances & Jobs, Student Life, and Well-Being tabs have a wealth of information about campus and student life.
Visit ASSIST to review college and major requirements satisfied at your community college.
Review the IGETC guidelines if you have participated in this program.
Consider taking Summer Session courses if you are missing lower division major requirements. Some lower division requirements are pre-requisites for upper division major courses.
ACTA: Check out the All-Campus Transfer Association on Facebook for information of interest to transfer students and to learn about social events.
Transfer Connect: Available for all new students, Thurgood Marshall College offers students the opportunity to connect with members of the UC San Diego faculty through the Marshall Mentor Program.