Academic Enrichment and Resources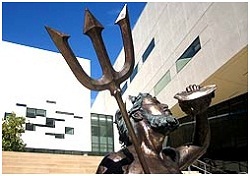 Take advantage of these opportunities to get the most out of your education.
Academic Integrity – Learn how academic integrity and misconduct issues are handled at UC San Diego, and make contact with the Academic Integrity Office staff.
Campus Exchange Programs are available at Dartmouth College, Spelman College, and Morehouse College. Talk with your college advisor for more information.
Career Services Center offers services and programs to help students determine and fulfill their career goals.
CAPE is the Course and Professor Evaluation. Visit their website to see how your fellow students rated their courses and professors.
Double Majors – Do you have an interest in more than one discipline? If you're considering a double major, work with your college and department advisors to develop an optimal academic plan.
Experimental Learning – Discover, experiment, and broaden your knowledge through first-hand experiences.
Freshman and Senior Seminar Programs offer students the opportunities to meet with faculty in a small class environment. Seminars carry one unit of credit, are graded P/NP, meet for 8-10 hours a quarter.
Honors – To receive university honors at graduation, you'll need to meet both GPA and graded unit requirements as outlined by your college. Most academic departments and programs offer an honors program consisting of honors courses, seminars, and/ or research. Check with your department for details.
Internships – Explore career options, gain practical work experience, and make professional contacts.
Language courses – Whether you want to learn a new language or complete your language requirements, the campus offers an array of language courses.
Library – Start by reviewing links and info for students who are new to the library, or find help with many other library resources.
Minors – In addition to your major, you may want to consider completing a minor: a set of courses within a well-defined subject outside your major department. Your college and major advisors can help you plan a minor that complements your interests and your career plans.
Office Hours – Get to know your professors and build relationships that can guide your academic career. Attend office hours, seminars, and events that your department or program sponsors, and work on a research project.
Office of Students with Disabilities – UC San Diego welcomes students with disabilities and dependents who have disabilities (families, children, partners, significant others) in our programs, classrooms, activities, campus living and physical environments.
Seminars and Lectures – Hosted by every department and program, these are excellent venues for meeting faculty and fellow students, learning more about your major or a new field.
Summer Session provides a great opportunity to take classes prior to your first fall quarter or between academic years. Hundreds of courses are offered in a wide variety of subjects.
Studying Abroad – Students are encouraged to look into the numerous venues that are available to you.
Undergraduate Research Opportunities – You can get a good preview of graduate school by participating in undergraduate research under the guidance of a professor. Research can help you prepare for your future.
University of California Center Sacramento – This academic program gives undergraduate students the opportunity to gain professional experiences while living and interning in the State Capitol.
University of California Washington Center – UCDC is a multi-campus residential, instructional, and research center in Washington, D.C.