Integrity Violations
Common cheating violations at UC San Diego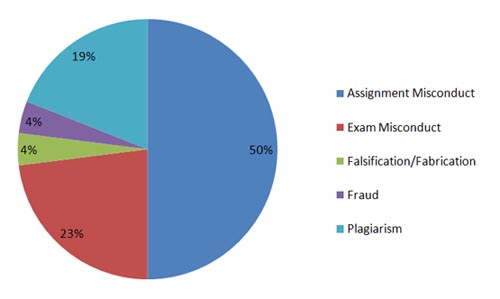 Key
Assignment Misconduct (50%): Violations in this category include submitting homework that's too similar to another student's; using unauthorized sources on an assignment (e.g., Wikipedia, CliffsNotes, SparkNotes); copying another student's assignment, paper, or lab report.
Exam Misconduct (23%): Includes copying during an exam, or using unauthorized aids during exams.
Falsification/Fabrication (4%): Examples include altering a graded exam for regrade, or submitting a forged excuse to get out of an assignment or exam.
Fraud (4%): For example, taking an exam for another student or having another student take an exam for you; using or distributing old or unauthorized copies of examinations, tests, answer keyes, or assignments.
Plagiarism (19%): Copying or using the words, ideas, or concepts of another without proper citation.
More information