Chancellor's Scholars Program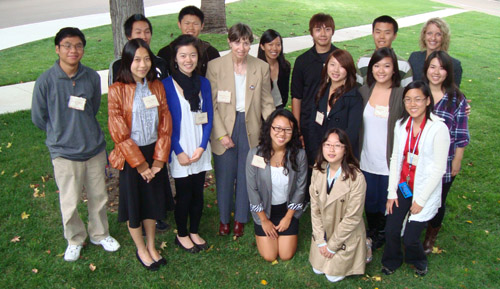 The Chancellor's Scholars Program is a leadership development program for students who are recipients of the prestigious Chancellor's Scholarship.
Benefits
Chancellor's Scholars benefit from:
Faculty mentoring through the Emeriti and Faculty Mentoring Programs
Peer mentoring with upper-division Chancellor's Scholars
Ongoing leadership and professional skill development
Social and community service activities with other Chancellor's Scholars
Exposure to student resources and involvement opportunities
Meetings
Chancellor's Scholars Program Meetings
All Chancellor's Scholarship recipients are expected to participate fully in the Chancellor's Scholars Program. The program meets on three Thursdays each quarter, 5:00 – 7:30 p.m., at the UCSD Retirement Resource Center. (Map)
2012-2013 meeting dates:
Fall Quarter: Oct. 4, Nov. 1, Nov. 29
Winter Quarter: Jan. 10, Feb. 7, March 7
Spring Quarter: April 4, May 2, May 30
Students who participate fully in the Chancellor's Scholars Program will be recognized at the Center for Student Involvement Leadership Banquet and at the Chancellor's Scholars Program Closing Reception in May 2013.
Emeriti Mentoring Program: Dream to Reality Luncheons
Chancellor's scholars participating in the Emeriti Mentoring Program will arrange meeting times with their faculty mentor on an individual basis. Quarterly "Dream to Reality" lunch meetings with mentors and mentees will be held in the Retirement Resource Center and have been scheduled for the 2012-2013 academic year: 
Fall Quarter: October 10, 2012 on Healthcare Professions
Winter Quarter: January 23, 2013 on Social Sciences
Spring Quarter: April 10, 2013 on Computer Science and Engineering
This will be an opportunity for Chancellor's scholar mentees to bring their own lunch and learn from Emeriti Faculty Mentors. 
Sponsors and contact
The Chancellor's Scholars Program is co-sponsored by CSI-Communication and Leadership and the UC San Diego Emeriti Association.