MEDS: Medical Education for Diverse Students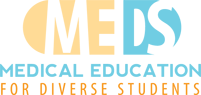 MEDS was an all-day conference held on Saturday, January 26, 2013, at the award-winning Telemedicine building at the UCSD School of Medicine. 
The program was open to all undergraduate students in the San Diego area who are considering medical or pharmacy school.
2013 conference highlights
MEDS stands for "Medical Education for Diverse Students," and is specifically designed to close the disparities seen in both medical education and health care. The health care system needs professionals from diverse backgrounds, who can identify with an even more diverse group of patients. 
But most importantly, MEDS exists to serve students — to encourage, educate, and empower students on their road to a career in health.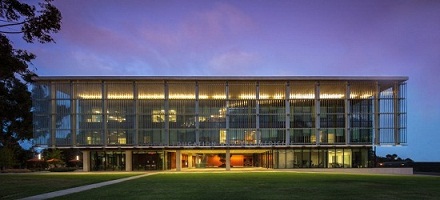 Maybe you aren't sure about whether you want to pursue a medical career, or maybe you've dreamed about being a doctor for years. At MEDS, students will learn all the basics, and new stuff, too!
There will be workshops on all components of the application process — testing, writing personal statements, interviews, and more. On top of that, the UCSD Schools of Medicine and Pharmacy have invited conference attendees to participate in hands-on workshops in the brand-new patient simulation labs, just like first-year medical and pharmacy students.
Regardless of your level of preparation for applying, MEDS hopes to equip students with foundational and essential information needed to successfully apply to medical or pharmacy schools. And we hope to have some fun doing so.
Telemedicine Building photo courtesy of Darren Bradley
Bookmark this URL

Check back later in the year for an update on plans for a 2014 conference.
View a campus map highlighting the Telemedicine building.
Driving directions from North/South I-5:
Exit La Jolla Village Drive

Coming north: turn left
Coming south: turn right

Turn right on Villa La Jolla Drive
Continue straight into the Gilman Parking Structure (parking is free on weekends)

Alternatively, turn left on Gilman Drive and left at the first stop sign for closer parking
To the Telemedicine Building:
Cross Gilman Drive so that you are on the south side (the School of Medicine campus)
The building is slightly west of Stein Clinical Research Building; follow the signs on campus to check in
Other Transportation:
UCSD shuttles to campus do not run on weekends, but weekend parking is free at UC San Diego.
Alternatively, use MTS bus routes 30, 201/202, and the NCTD 101. Each has a stop at Gilman and Myers, in front of the medical school campus.
Fares are free for UCSD students with a valid bus sticker. Otherwise, one-way fares are $2.25 for MTS lines, and $1.75 for NCTD lines, and buses require exact change. A regional day pass for both lines costs $5 and can be purchased on the bus.
MEDS is organized by UCSD's undergraduate Health and Medical Professions Preparation Program (HMP3) in the Academic Enrichment Programs (AEP) department, with generous support from the UCSD School of Medicine and School of Pharmacy.
If you'd like more information regarding the conference, please e-mail HMP3 Program Assistant Rachel Bruckman, 858-534-7455.
For more information regarding the MEDS conference, contact: