Campus Safety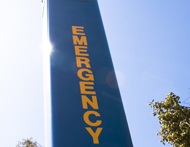 Campus safety is everyone's responsibility. From personal to group safety, you'll find excellent resources here.
Do you know what to do in the event of a fire, earthquake, or tsunami? Visit the emergency planning page and learn about campus resources for emergency status, response, preparedness, and training.
The UCSD Police Department is a diverse organization dedicated to providing the highest quality police service to students, faculty, staff, and visitors. They offer many valuable services, from lost and found to reporting a crime.
SARC offers workshops on violence prevention for the entire UCSD campus and provides free and confidential services for students impacted by violence, with a focus on survivors of sexual assault, dating violence, and stalking.