Financial Aid: Eligibility Requirements for Graduate Students
Learn what you need to do to be eligible to receive and keep post-graduate financial aid.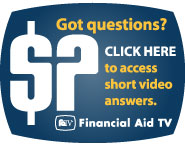 In the right place? If you're an undergraduate student, see Eligibility Requirements for Undergraduates.
Graduate Student Eligibility Requirements
Be enrolled and admitted to a degree program at UCSD.

Your financial aid funding is limited to a certain number of quarters, depending on the type and availability of aid, and the degree or certificate program you're in. For example, a Ph.D. student is eligible for all types of financial aid for 18 quarters, plus 3 additional quarters of limited funding.
Be a U.S. citizen or an eligible noncitizen.

You're eligible if you're a:

U.S. citizen
U.S. national (includes natives of American Samoa and Swain's Island).
U.S. permanent resident who has an I-151, I-551 or I-551C (Alien Registration Receipt Card)
Student who has an Arrival-Departure Record (I-94) from the INS with one of the following designations:

Refugee
Asylum Granted
Indefinite Parole and/or Humanitarian Parole
Cuban-Haitian Entrant (Status Pending)
Conditional Entrant (valid only if issued before April 1, 1980)

You are not eligible for federal financial aid if:

You have only a Notice to Apply for Permanent Residence (I-171 or I-464).
You're in the United States on an F1 or F2 student visa only.
You're in the United States on an J1 or J2 exchange visitor visa only.
You have a G-series visa.
Be in good standing with satisfactory academic progress.

Note: The requirements for satisfactory academic progress for financial aid recipients may differ from the requirements for UCSD's minimum progress policy.

You must maintain progress toward a degree to receive and remain eligible for financial aid.

This progress includes a 3.0 cumulative GPA and credit for 36 units during the academic year. You can't receive more than 8 units of "U" (unsatisfactory) grades.