Meet Penny Rue
Penny Rue serves as Vice Chancellor – Student Affairs at the University of California, San Diego, with broad responsibility for the safety and well-being of students and their education outside the classroom.
Dr. Rue joined the UC San Diego campus in September 2007.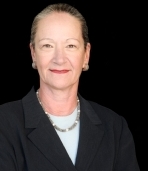 Career highlights
Most recently, served for 8 years as Dean of Students at the University of Virginia
Taught College Student Development in the Center for the Study of Higher Education at UVa's Curry School of Education
Served for 5 years as Senior Associate Dean of Students at Georgetown University
Worked for 7 years as Georgetown's Director of Student Programs
Earlier in her career, held posts at the University of Maryland and the University of North Carolina at Chapel Hill
Degrees and education
Penny Rue's doctorate is in Counseling and Personnel Services from the University of Maryland, where her dissertation research focused on a conceptual study of community on the college campus.
She has a master's degree in Student Personnel Services from Ohio State University and an A.B. magna cum laude in English and Religion from Duke University.
Dr. Rue's messages for students
Messages for Student Affairs staff
News stories featuring Dr. Rue