Vendor Fair
Find out about the Vendor Fair sponsored by the Center for Student Involvement.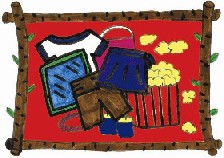 General information
Students are the primary customers of our Vendor Fairs.
The Vendor Fair is held once each quarter. This year's schedule:

Oct. 29–Nov. 2, 2012
Jan. 28–Feb. 1, 2013
Apr. 29–May 3, 2013

Information: (858) 534-0789
Invitation to apply (PDF)
Application (PDF)
Selection criteria
Vendor Fairs are for non-food vendors who have commercial liability insurance and a California Seller's Permit.
Vendors are invited to participate in the Vendor Fair at the sole discretion of The Center for Student Involvement.
The criteria for selection of vendors include:
Desirability of the items or product
Originality of the items or product
Past performance during previous Vendor Fairs
Price point of items
Number of vendors selling similar items
Student feedback
Timeliness of application
Directions and parking
Note:
See important parking permit information on the application.
Mailing list
If you would like to be added to the Center for Student Involvement vendor mailing list, send us an e-mail with your:
Name
Address
Phone number
Product