Diversity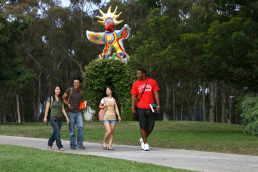 Learn about the different ways UCSD explores, supports, and celebrates the many cultures that make up our diverse community.
Student support offices and programs
Offers a variety of supportive and educational services, and ways to learn about different cultures and peoples through art, programs, workshops, and outreach. The CCC hosts an art space, lending library, and a community space for relaxing, studying, meeting with friends, cooking, and much more.
Provides a space for lesbian, gay, bisexual, transgender students, as well as staff, faculty, and our allies, to connect and come together in community. Let the LGBT Resource Center be your home away from home; visit the center and subscribing to the Rainbow Newsletter for up-to-date information on queer life at UCSD.
This office schedules and co-sponsors support groups and other events, and also works with students and dependents with disabilities who register with the department for eligibility of modifications, adjustments, and other accommodations due to disabilities.
Student Promoted Access Center for Education and Service (SPACES) offers free programs that are student-initiated and student-run. By building and engaging community through programs, prospective and current students are empowered to be proactive in their educations and in their lives.
The center provides education and support to all members of UCSD regarding gender issues, with the goal of promoting an inclusive and equitable campus community. Regular events include a mother's group and monthly book club meetings.
Online student guides
Connects you to other students and resources to help you thrive at UCSD.
Find peers and mentors, community gathering spots, opportunities for involvement, and more.
Make friends and connect
In addition to the spaces and programs listed above:
An all-inclusive organization that welcomes all students– both international and local. The club's programs, events, and activities are focused around increasing cultural exchange within a relaxed and inviting setting.
Have lunch each Friday at the International Cafe, or join in any number of other events for people who share an interest in international friendship and understanding.
Learn and explore
Find majors, minors, and programs for credit that focus on diversity issues.
Link to financial support resources specific to underrepresented groups.
Find research opportunities that help advance the goals and careers of underrepresented populations.