Study Abroad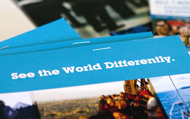 UC San Diego offers several ways to study abroad. Link to the following resources to decide which program is right for you.
Education Abroad Program
The Education Abroad Program (EAP) is the UC's systemwide international exchange program.
See a list of EAP participating countries.
Opportunities Abroad Program
The Opportunities Abroad Program (OAP) allows you to earn transfer credits by participating in programs sponsored by other accredited universities.
Global Seminars
Global Seminars are offered during Summer Session I and allow you to earn credits while traveling with UCSD professors.
Other study-abroad options
In addition to the EAP, OAP, and Global Seminars, programs are also available through other campus departments, or you may consider summer programs at other UC campuses.
In the right place? Besides studying abroad, UCSD offers these opportunities for going abroad: