MEDS is an all-day conference held annually in January at the award-winning Telemedicine building at the UCSD School of Medicine. The program is open to all undergraduate students in the San Diego area who are considering medical or pharmacy school.
2015 Conference Highlights
2014 Conference Highlights
---
2015 Keynote Speakers
James Colbert, Pharm.D.
Health Sciences Clinical Professor
Associate Dean for Experiential Education
UCSD Skaggs School of Pharmacy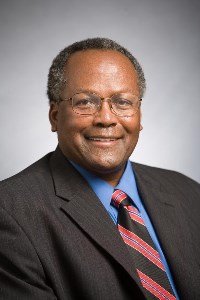 Dr. James Colbert is an accomplished and decorated leader in pharmacy with over 30 years of experience. He received his B.A. in Biological Sciences from UC Berkeley and his Doctor of Pharmacy degree (PharmD) from UC San Francisco (UCSF). He completed a fellowship with the American Association of Colleges of Pharmacy (AACP). He currently serves as the Associate Dean for Experiential Education and is a Clinical Professor of Pharmacy at the UC San Diego (UCSD), Skaggs School of Pharmacy and Pharmaceutical Sciences.
Prior to joining the UCSD School of Pharmacy, Dr. Colbert was a Pediatric Pharmacist Specialist for the UCSD Healthcare System. His practice included responsibility for providing pharmaceutical care in general pediatrics, hematology/oncology, adolescent medicine, child and adolescent psychiatric services (CAPS), acute women's health care, and neonatology. His administrative responsibilities at the medical center included service as the Education and Training Pharmacist, PGY2 Residency Coordinator for Pediatrics, and Clinical Manager for the Department of Pharmacy.
Dr. Colbert served with distinction as an officer in the U.S. Army and had numerous duty assignments both in the U.S. and abroad. He is a veteran of the Persian Gulf War (Desert Shield, Desert Storm; 1990-1991) and the Bosnia Peacekeeping Campaign (Operation Joint Endeavor 1996-1997).
At the UCSD School of Pharmacy, Dr. Colbert has administrative responsibility for both Introductory Pharmacy Practice Experiences (IPPE) and Advanced Practice Pharmacy Practice Experiences (APPE) for all pharmacy students. He has arranged clinical clerkships for students throughout the U.S., Central America, Africa and Asia. His research interests involve preceptor development programming, leadership development, and experiential education program assessment. In addition to his responsibilities in experiential education, Dr. Colbert teaches the school of pharmacy pediatric pharmacotherapy course and serves on the PharmD and PharmD /PhD dual degree admissions committees.
Dr. Colbert is the first member of his family to attend and graduate from college. He is the first African American to be appointed as a faculty member in the UCSD School of Pharmacy. He is also the first African American to be appointed as a dean in the UCSD School of Pharmacy. Lastly, he is the second African American to be appointed as a dean in the history of California Schools of Pharmacy.
Luis Castellanos, M.D., M.P.H.
General Cardiologist
Assistant Clinical Professor of Internal Medicine
UCSD School of Medicine

Luis R. Castellanos MD, MPH is an Assistant Clinical Professor of Medicine and Director of the Clinical Cardiology Clerkship at the University of California, San Diego School of Medicine.  Dr. Castellanos graduated from UC Davis summa cum laude with a Bachelor's of Science in biochemistry and earned his medical degree from Harvard Medical School.  He completed his internship and residency in Internal Medicine at UC San Diego and after finishing his medical training, Dr. Castellanos moved back to Boston where he was a Fellow in Minority Health Policy at Harvard University/Commonwealth Fund Program.   During this time, he attended the Harvard School of Public Health and obtained a Masters in Public Health with an emphasis in Health Policy and Management. Afterwards, Dr. Castellanos attended UC Davis and completed a fellowship in cardiovascular medicine where he was selected as the Chief Research Fellow for his involvement in clinical research that addressed vulnerable populations.
Dr. Castellanos' research focuses on health outcomes and minority health policy. He has been involved in several independent research projects in cardiovascular medicine and has co-authored articles for the Journal of Cardiac Failure and the American Journal of Cardiology. Dr. Castellanos has collaborated with investigators from the California Department of Public Health in order to evaluate how in California, racial and ethnic minority patients who undergo coronary artery bypass grafting may be more likely to be operated on by cardiac surgeons with higher operative mortality rates. Most recently, Dr. Castellanos was awarded a research grant from the Clinical and Translation Research Institute in an effort to study the effectiveness of a home-based cardiac rehabilitation program in patients with coronary heart disease.  Dr. Castellanos has been invited to present his research at national conferences such as the American Heart Association and the National Hispanic Medical Association annual meetings where he has been a strong advocate for improving cardiovascular heath of community members, particularly racial and ethnic minority groups.
Dr. Castellanos has been recognized by the UCSD Clinical Advancement and Recognition of Excellence in Service for several years and in 2013, he was selected by the National Center for Leadership in Academic Medicine. Dr. Castellanos travels regularly to the Imperial Valley where he provides cardiac care to underserved populations from El Centro, Brawley and neighboring communities.
Lorenzo González and Nicole Tantoco
UCSD Medical Students