2014 Keynote Speakers
Sandra Daley, M.D.
Associate Chancellor and Chief Diversity Officer Emeritus
UC San Diego, School of Medicine

For more than three decades, Dr. Sandra P. Daley has advocated for academic enrichment programs that help disadvantaged students pursue careers in health and science. She is the associate chancellor and chief diversity officer at the University of California, San Diego (UCSD). Daley also serves as director and principal investigator for the UCSD Health Careers Opportunity Program (HCOP), which provides academic support and resources to underrepresented and low-income students beginning in the seventh grade. HCOP has achieved impressive results, with more than 90 percent of participants entering college and more than 30 percent of those college graduates continuing on to graduate or professional school.
As a professor of pediatrics at the UCSD School of Medicine, Daley and her colleagues developed a $2 million endowment for, and established, the only medical school conditional-acceptance program in California. She also helped found the UCSD National Center for Leadership in Academic Medicine, which increased the number of women faculty and faculty of color at the medical school. Before joining the UCSD faculty, Daley was the medical director and executive director of the Comprehensive Health Center, an inner-city community health center serving the African-American and Latino communities in San Diego.
Daley was born and raised by her grandmother in Panama and moved to the United States to be with her mother at the age of 12. She is an alumna of the Kellogg Foundation National Fellowship Program, which led her to study grassroots organizing at the Highlander Center in Tennessee. She has received many awards, including the Salvation Army Woman of Dedication and the San Diego Business Journal's Women Who Means Business awards. Daley received a bachelor's in chemistry from the University of Albuquerque and a medical degree from the UCSD School of Medicine.
Dr. Kenneth H. Schell, Pharm.D., RPh., FASHP, FCSHP
Assistant Dean for Pediatric Clinical Affairs and Health Sciences Clinical Associate Professor
Skaggs School of Pharmacy and Pharmaceutical Sciences
Chief of Pharmacy, Rady Children's Hospital, San Diego
Education
B.A. Biology (1978) UC San Diego (Revelle College); Pharm.D. (1984) UCSF; Residency in Pharmacy Practice (1985) UCSD Medical Center, Hillcrest)

Biography
Dr. Schell has practiced in a wide variety of acute care hospital, managed care and regulatory compliance environments. His clinical expertise is in pediatric pharmacy where in previous positions has practiced in the pediatric intensive care unit and other areas at the Rady Children's Hospital in San Diego. In addition, he has practiced in managed care settings as a Clinical Operations Manager at the Kaiser Permanente San Diego Services Area. In this role he oversaw the ambulatory clinical pharmacy services which included, the anticoagulation service, pediatric hematology/oncology clinic, and pharmacists who practiced in the HIV, Renal, Cholesterol, Hypertension and Investigational Drugs Clinics.
Key Contributions to Clinical Pharmacy
Established Pediatric Clinical Pharmacy Elective Service at the Children's Hospital in San Diego. This led to opportunities for 4th year UCSF School of Pharmacy Students to obtain real time clinical pharmacy experience at an acute care pediatric hospital.
Established the role of pediatric ICU pharmacist at the Children's Hospital in San Diego.
Assisted in the implementation of the Pediatric HomeCare Service at the Children's Hospital in San Diego.
Established the HIV Ambulatory Care Pharmacist role at Kaiser Permanente in San Diego.
Gained approval to establish the Investigational Drug Pharmacist role at Kaiser Permanente in San Diego.
Roman Navarro
4th Medical Student at UCSD School of Medicine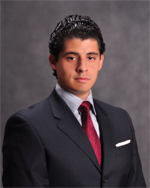 Throughout the course of my life and education I have had many mentors. But, it has been those closest to home that have made the greatest impact in my life, and the person I am today is a reflection of the lessons learned. Life in the Imperial Valley is very similar to Hollywood's depiction of the Midwestern United States, small rural towns, large agricultural activity, and football obsession. In comparison to a much larger city as San Diego, there isn't much excitement. Nonetheless, it was in this smoldering valley, in a small town named Brawley, that I learned some of the most important lessons in my life. It is the place where I grew to become the person I am today.
Raymond, my father, was the only child of two field-working parents, and as a child, he too worked in the fields of the Imperial Valley in order to financially help his parents. Unfortunately, his parents' low education and long irregular work schedules left him with little guidance and support needed through his childhood to ensure a brighter future; in most respects he was left to deal with the difficulties and mistakes one makes in life on his own. It is a remarkable and great achievement that, only with an associate's degree, today he is an important facilities director of the Superior Courts of California-Imperial Valley, and is held in the highest esteem among judges, lawyers, and other county directors. He is proof that education alone is not the only key to obtaining dreams and success. I believe his willpower was fueled by the notion that each generation is to be better than the previous one, meaning that his future family would not endure the extreme poverty and hardships he experienced. Although I wasn't enduring hard physical labor as he had, I can see today that I was being taught the principle of having to work hard for something that you want. He was teaching us that life is imperfect and that privileges are earned. My siblings and I became disciplined; we became responsible, dependable. Furthermore, being occupied kept me out of trouble. In particular, it kept me from doing drugs and joining gangs, which many of my childhood friends became associated with, some now suffering the consequences.
For the most part, my parents felt I was too young and immature to leave home, and not prepared for college. Although I always made honor roll, my parents never pushed me to exceed in school. Like many other Hispanic families, my parents never forced upon me "when you grow up I want you to be a doctor, a lawyer, an astronaut." They would not mind if I was the city trash collector, just as long as I was happy, they would be happy. It was when I was enrolled in Advancement Via Individual Determination (AVID) in the eighth grade that I learned about college, and it was there that my interest in attending the University of California San Diego was born. Though I had aspirations for attending university, the preparation and motivation I needed to throughout high school in order to be a competitive applicant did not exist, and my only option was to attend the Imperial Valley College. Despite my reluctance at first, attending IVC has turned out to be one of the best things that has happened to me.
The Imperial Valley will always be my home, and I believe that the lessons I learned and the growth I experienced should be shared with everyone in my community. I now understand what my father meant when he said he loved me as he was punishing me; he knew that in effect it would ensure me a better life in the future and that it would make me into a better person. But, he probably did not expect that I would be sharing his love with others as a physician. The disadvantages I had growing up truly served in my best interests as they provided the setting and circumstances for the growth I needed to become a better and stronger person; It is these changes that, ultimately I believe, will make me into a better physician.