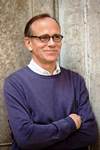 The Amgen Scholars program not only provides outstanding emerging scientists with first hand experience in an active research lab, but because of the quality of the students, they effectively contribute to the labs in which conduct their research."
– Fred Gage, Amgen Mentor; UCSD Professor of Biology, Salk Institute Laboratory of Genetics
[What did you like MOST about the Summer Research Program?] "The opportunity to be intellectually stimulated every day, whether in the lab or through discussions with program peers. I am of the belief that there are few occupations where employees can be stimulated to think critically on a daily basis. However, as I have learned, science research is certainly one of the few. Oftentimes, the most interesting parts of my day would be the journal articles I would read to supplement my research, or the discussions about lab research matters which arose from time to time. Essentially, there were no boring days at the bench."
– Zachary Rotter, 2012 Alumnus, College of Wooster, OH
"My plans have not necessarily changed, nor did I speak with my mentor extensively about graduate school. However the program in general has increased my interest in pursuing research and showed me that it can be a very interesting career path. I was always interested in research but my summer cemented that interest."
– Mohammed Abdelrahim, 2012 Alumnus, Columbia University, NYC
"I trained a lot of undergraduate students and enjoy working with them. Without hesitation, I can state that Nikki was one of the best, in her enthusiasm, interest, work ethics and skills."
– Dr. Djurdjica Coss, 2011 Mentor, UCSD Reproductive Medicine Dept.
"Ms. Choi could easily get into the best biological chemistry programs in the country. She is at a graduate level now and only a sophomore."
– Kim Janda, Professor, 2012 Mentor, The Scripps Research Institute
"I really enjoyed the networks I created with my fellow interns. I loved doing the research and the conference, but the friendships I made this summer were my favorite part."
– Brenda Campbell, 2012 Alumna, Cal Poly Pomona
"I got to know some really great and supportive people through the AMGEN program, mentors and peers alike. I know that the connections I made will be invaluable throughout my careers as a student and a professional. Plus the conference is tons of fun!!"
– Caroline Broaddus, 2011 Alumna, UCSD
"Edward is a truly exceptional undergraduate student. He is intelligent, responsible and has a great work ethic. Even when I was out of town or on medical leave and we had to communicate over email, the quality of his work does not suffer. He is always eager to learn. You can count on Edward to not only get things done but to do them well. His writing is of excellent quality and he also has given very clear and well-prepared talks. He is also modest and a great team member. We are fortunate to have him in the lab."
– Dr. Ayse Saygin, 2012 Mentor, UCSD Cognitive Science Dept.
"I looked at my personal statement from my application and realized that I really did accomplish everything I hoped to achieve through this program."
– Cassi Callmann, 2011 Alumna, West Chester University of Pennsylvania
"The AMGEN Scholars Program gave me the invaluable opportunity to conduct my own research project for the first time. In the process of planning, executing, and troubleshooting my experiment, I learned how to think like a scientist beyond just participating as a lab technician. "
– Sherine Cheung, 2011 Alumna, UCSD
"Ms. Ho is an outstanding student. She is interested in pursuing a combined MD/PhD degree, and she is a strong candidate for the Medical Scientist Training Program at major research medical schools.
– Dr. Jean Y. J. Wang, 2009 Mentor, UCSD Medicine Dept., Moore's Cancer Center
"I came into this program thinking that I had done research before. I came out of the Amgen Scholars program with a strong sense of where I want to go in the future, along with the tools and contacts necessary to get me there. The friendships and countless memories that I made in the process will stay with me for a lifetime."
– Revathy Sampath-Kumar, 2011 Alumna, UCSD
"I have participated in internship experiences before at other Universities, but my experience as an AMGEN Scholar at UCSD was undoubtedly the best I have ever had. I was looking for a summer in which I could participate in a lab of my choosing to gain valuable preparation for graduate school, and I got just that, but just as valuable were the opportunities I didn't realize I would receive until participating in the program. What I also received was a scientific environment with leaders in their field who are willing to meet with you if only you ask, a campus focused on giving students opportunities in science, and a community of other students whose career goals are as lofty as my own. Another integral part of the summer was the ability to meet with other AMGEN Scholars at the National Symposium at UCLA to hear about their research and the campuses at which they were working. All of these have ascertained my interest in going to graduate school and have helped me to identify both my areas of interest and where I will apply. And oh, you're in San Diego for the summer. The cumulation of all the factors make this summer one I will always fondly remember, and one that will get me noticed; what's better than that?"
– Michael Parker, 2011 Alumnus, Millersville University of Pennsylvania
"Clearly, she has what it takes to succeed in whatever field she chooses. We have extensively discussed graduate school and my laboratory and I will support her through the application process."
– Dr. Andrea Chiba, 2008 Mentor
"I hope Britni will go ALL the way. She will be excellent as a researcher."
– Hilde Cheroutre, 2009 Mentor, Professor, UCSD Medicine Dept.
"The program allowed me to do research beyond what my smaller home institution could offer, and the environment assured that I benefitted from all the opportunities at hand. Everything from the program coordination, other Amgen scholars, my mentors, and my research, far exceeded my expectations."
– Andrea Cyr, 2010 Alumna, Chapman University
"Send me more students like her!"
– 2011 Mentor
"For a Midwest native, living on the west coast for the summer was absolutely fabulous, but what really made the program an experience like no other were the wonderful people I was surrounded with, the exciting research I was exposed to, and the mentorship I received — I'm sure under your direction, Amgen scholars in coming years will have the same wonderful experience that I did."
– Stephanie Berger, 2011 Alumna, University of Nebraska-Lincoln
"I have not the slightest doubt that Cody will succeed in any graduate program."
– Dr. Thomas Hermann, 2009 Mentor, Professor, UCSD Chemistry & Biochemistry Dept.
"Her write-up displayed remarkable perspective — better than what I normally see from a postdoc."
– 2011 Mentor
"Being part of the 2009 Amgen-UCSD Program was a great experience. I had the chance to conduct research in Dr. McCulloch's Cardiac Mechanics Research Lab where I learned many skills in the bioengineering field. I became very fascinated with this research from the start and it was a great learning experience. After this program, I realized that I wanted to attend graduate school. [I am currently working on my Masters degree and will be applying to doctorate programs in the field of tissue engineering.]"
– Ana Rioja, 2009 Alumna, University of South Florida