Are you interested in pursuing a Ph.D? Are you considering a career in research or university teaching? If you answered yes to either of these questions, you should think about applying for admission to the UCSD McNair Program. 
The McNair Program is part of the UCSD Academic Enrichment Programs.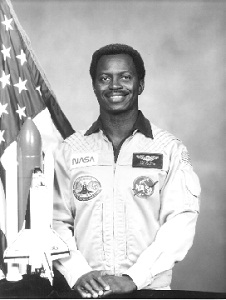 Ronald Ervin McNair was born on October 12, 1950, in Lake City, South Carolina, where he graduated as valedictorian from Carver High School in 1967. He attended North Carolina A&T University where he earned a bachelor's degree in physics, magna cum laude, in 1971. In 1976, he received his Ph.D. in physics from MIT.
McNair was nationally recognized for his work in the field of laser physics. He was selected by NASA for the space shuttle program in 1978 from a pool of ten thousand applicants. In addition, he was a sixth degree black belt in karate, an accomplished saxophonist, and the recipient of three honorary doctorates and a score of fellowships and commendations.
McNair first flew as a mission specialist on the space shuttle which launched from Kennedy Space Center on February 3, 1984. Ronald E. McNair died on January 28, 1986, in a fiery explosion nine miles above the Atlantic along with six other crew members aboard the space shuttle Challenger. He was married and had two small children at the time of his death.
The Ronald E. McNair Postbaccalaureate Achievement Program was created by Congress in honor of the physicist who was among the first African Americans in the U.S. space program. Through hard work teamed with mentoring, McNair rose from modest circumstances to earn his doctorate, and his name has become a symbol of academic excellence.
The objective of the McNair Program is to provide low-income, first- generation college students, and students from groups underrepresented in graduate education, with effective preparation for doctoral study.

Today, more than 130 universities throughout the nation have received grants from the U.S. Department of Education to administer McNair Programs. See a list of McNair Programs around the nation.
In addition, many graduate schools now offer McNair-specific fellowships for graduate study and waive their application fee. Review the fellowships and waivers listings on the McNair Program website for more information.
As one of the original 14 institutions to receive a McNair grant, UCSD has administered a McNair Program since 1989.
Program dates
UCSD's McNair Program is a rigorous program of scholarly activities. The program begins with an orientation in November and involves research activities in the Winter, Spring, and Summer.
Program activities
McNair Program activities include:
A two-quarter, 10-hour-per-week academic-year research placement
An 8-week, full-time summer internship as a research assistant on a faculty mentor's project
Training in how to write and present a scholarly research paper
The opportunity to present a paper at a minimum of two research conferences
Monitoring of academic performance
Guidance in applying to graduate school and obtaining fellowships
Preparation for the Graduate Record Examination
Training in library research skills
Seminars presented by faculty
Program benefits
As a McNair scholar, you will work closely with a faculty mentor in your discipline. The opportunity to work one-on-one with a professor will give you a unique insight into the world of academia.
Students are required to make a commitment to:
Work as a research assistant at least 10 hours a week during the Winter and Spring quarters and 30 hours a week for 8 weeks during the summer.
Write a research proposal and paper, and present your paper at a minimum of two research conferences.
Attend all program events.
Thirty McNair scholars will be selected annually on a competitive basis.
You are eligible to apply if you have at least a 3.0 grade point average and an interest in pursuing a Ph.D.
In addition, you must be:
A U.S. citizen or a permanent resident
A junior or senior (all majors)
AND either:
A first-generation college student who is low-income
OR
A member of a group underrepresented in graduate study (African American, Alaskan Native, American Indian, Chicano, or Latino)
Students receive 4 units of 199 independent study credit during both the Winter and Spring quarters.
During the Summer, students will receive a $2,800 fellowship, free on-campus housing, and an additional 4 units of 199 independent study credit (for a total of 12 units).
Application deadline:
The 2014-2015 McNair Program application deadline is Friday, October 24th.

The application should be submitted

online

. All supporting materials can be submitted online or submitted as hard copies to Thomas K. Brown at UCSD mail code 0311 (La Jolla, CA 92093-0311).
A complete McNair Program application includes:
Completed and signed application form, including your personal essay (submit on-line)
One letter of recommendation (PDF form must be downloaded, filled out, and submitted separately). Send an online recommendation request to a faculty member familiar with your intellectual ability, aptitude for research, and graduate school potential.
Copies of your own and your parents' or guardians' 2013 federal (1040) tax returns (submit separately, online)
Members of the UCSD faculty who are interested in mentoring a McNair Scholar should contact the McNair Program office. Your willingness to participate and to encourage your colleagues to become faculty mentors will make a significant contribution to our program.
If you know of any students who would benefit from our services and meet the grant qualifications, please encourage them to stop by the Academic Enrichment Programs office at Student Center Building B, 2nd Floor East and/ or to visit the AEP website.