April is Sexual Assault Awareness Month (SAAM)

April has been designated as National Sexual Assault Awareness Month (SAAM). The goal of SAAM is to raise awareness of sexual violence and to educate communities and individuals on how to prevent sexual violence. UC San Diego SAAM is brought to you by the SAAM Coalition comprised of various UC San Diego organizations and departments to co-sponsor events all throughout April. The SAAM Coalition encourages members of the UC San Diego community to change campus culture together.
The National Sexual Violence Resource Center sets each year's theme and the 2017 SAAM theme is "Engaging New Voices." This theme focuses on reaching out to influential leaders in our community that have the connections to create lasting campus change all year long. We can bring about the most change when we raise our voices together! 
---
SAAM 2017 Events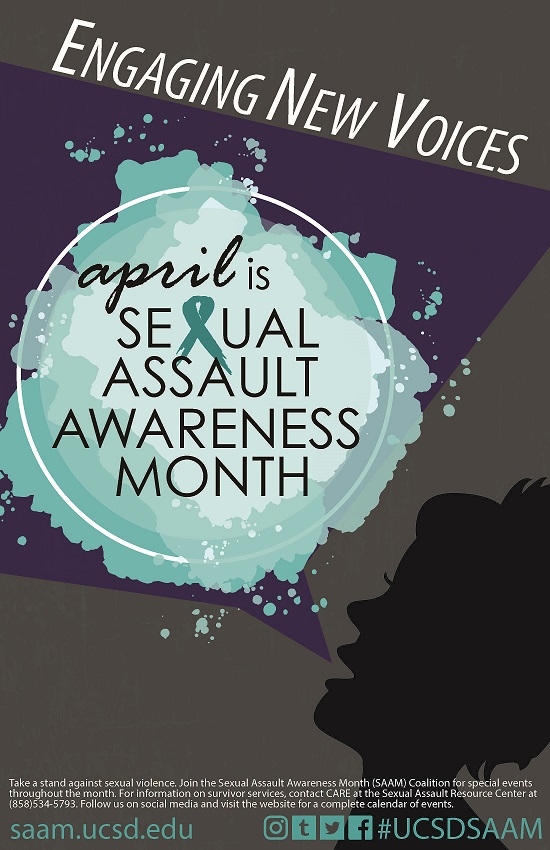 All Month Long
Circle of Truth
Outside of PC East Ballroom
Pin a ribbon on the wreath if you or someone you know was sexually assaulted.
SAAM Tabling
Varied campus locations
Learn more about the latest events for SAAM, fill out one of our survivor shoutouts or SAAM postcards to show your support, and take part in our #Selfies4SAAM photo-op.
Week 1 & 2
SAAM Display Case
Red Display Case, next to PC East Ballroom
Check out our SAAM visual display and learn how to get involved during the month.
Week 1
April 4, Tuesday
National Day of Action
11:00am-2:00pm, Library Walk, Block 1967-1969
Let's kick off SAAM by taking action! Engage with policymakers by writing a postcard in support of survivors and campus violence prevention resources to your local, state, or federal legislators. Sponsored by CARE.
Week 2
April 10-14, Monday-Friday
The Clothesline Project
10:00am-4:00pm, PC Lawn East (next to PC Fountain)
A visual display that calls attention to sexual violence. Sponsored by A.S. Women's Commission.
 
April 11-13, Tuesday-Thursday
R.A.D. Self-Defense Class for Women
5:00-9:00pm, UCSD Police Department
Rape Aggression Defense (R.A.D.) teaches realistic self-defense tactics and techniques for women. To sign-up, contact CARE at SARC at sarc@ucsd.edu.

April 13, Thursday
Take Back the Night
6:30-9:00pm, PC Lawn West of Library Walk
Open mic testimonials that provide a space for survivors to share their experiences and raise awareness about sexual violence. Sponsored by A.S. Women's Commission.

April 14, Friday
Gender Buffet: From Rape Culture to a Culture of Consent
12:00-1:30pm, Women's Center
Learn about how we can change campus culture and take steps toward a culture of consent. Presented by CARE at SARC.
Week 3
April 18-20, Tuesday-Thursday
R.A.D. for Men
5:00-9:00pm, UCSD Police Department
Resisting Aggression Defensively (R.A.D.) teaches self-defense to resist and escape aggressive behavior. To sign-up, contact CARE at SARC at sarc@ucsd.edu. 
April 18, Tuesday
Succulents for SAAM
11:00am-12:00pm, The Zone
Join us in recognizing the resilience of sexual assault survivors and come plant your own succulent to take home. Sponsored by The Zone.

April 19, Wednesday
(Safer) Sex Shop + Condom Bar
11am-2pm, Sun God Lawn
Safer sex can be fun! Stop by for a variety of FREE safer sex materials and learn about consent. Sponsored by Health Promotion Services and the Student Health Advocates.
 
April 20, Thursday
Yes, No, Maybe: Clarifying Consent
5:00-6:00pm, Bear Room (2nd Floor PC)
This interactive workshop focuses on communication and consent. Learn what consent is and how to ask, listen, and respect their response(s). Sponsored by CARE. 
Week 4
April 25, Tuesday
Tritons Party Safer
11am-2pm, Library Walk Block 1990-1991
Come find out how Tritons Party safer and smarter! Activities include, "Think Before You Drink," "Helping a Friend in Need," "What Type of Drinker Are You," and more.
 
April 25, Tuesday
Friends Supporting LGBTQIA Survivors
12:00-1:30pm, LGBT Resource Center
Discussion on ways to provide support for LGBTQIA survivors of sexual violence. Presented by LGBTRC & CARE at SARC. Sponsored by the LGBTRC.
 
April 26, Wednesday
Denim Day
10:00am-3:00pm, Library Walk, Block 1994-1995
Join us on Library Walk. Wear denim all day to show support for ending sexual violence. Sponsored by the Women's Center.
 
April 28, Friday
Art Therapy Workshop
3:00-5:00pm LGBT Resource Center
Healing and self-care can be found through art. Join artist Ramona Garcia for a traditional Mexican doll-making workshop. Sponsored by the LGBTRC.
Week 5
May 3, Wednesday
Navigating (self)CARE
4:30-6:00pm, CARE at SARC Office, Student Services Center, Suite 500
Navigate your way through the CARE office as you learn about different self-care practices and how you can incorporate them in your life. Light refreshments provided. 
---
Survivor Shout Outs
Survivor shout outs are a way we, as a community, can show our support to survivors of sexual assault. Shout outs will be written on a starfish shape and included at events during Sexual Assault Awareness Month (SAAM).Give a shout out to a survivor you know through our online form or visit us on our SAAM Tabling dates.
---
Join us online!
Take action online during Sexual Assault Awareness Month 
(SAAM) with our #UCSDSAAM social media movement. Post 
a photo in support of SAAM, use the hashtag #UCSDSAAM, and 
tag @ucsdsarc. Click here for ideas for posts to inspire you to take 
the conversation online, engage new voices, and spread awareness!
CARE at the Sexual Assault Resource Center coordinates and publicizes all campus events associated with UCSD SAAM in conjunction with the SAAM Coalition which is comprised of a number of organizations and departments at UCSD including: