April is Sexual Assault Awareness Month (SAAM)

April has been designated as National Sexual Assault Awareness Month (SAAM). The goal of SAAM is to raise awareness of sexual violence and to educate communities and individuals on how to prevent sexual violence. UC San Diego SAAM is brought to you by the SAAM Coalition comprised of various UC San Diego organizations and departments to co-sponsor events all throughout April. The SAAM Coalition encourages members of the UC San Diego community to change campus culture together.
---
SAAM 2018 Upcoming Events 
This year we are recognizing the 30 years of sexual assault prevention and response at UC San Diego led by CARE at the Sexual Assault Resource Center. Join us at the following events: 
National Day of Action 
Tuesday, April 3, 10:00 a.m. - 2:00 p.m.
Library Walk
Title IX at UCSD
Wednesday, April 11, 12:00 p.m. - 1:00 p.m.
PC West Bear Room
Succulents for SAAM
Tuesday, April 17, 11:00 a.m. - 12:00 p.m.,
The Zone (students), Huerta/Vera Cruz Room (staff/faculty)
Friends Supporting LGBTQIA+ Survivors
Wednesday, April 18, 12:00 p.m. - 1:30 p.m.
LGBT Resource Center
Take Back the Night 
Thursday, April 19, 6:30 p.m. - 9:00 p.m.
PC West Lawn / Library Walk 
Denim Day 
Wednesday, April 25, 10:00 a.m. - 2:00 p.m.
Library Walk
Sun God IDEAS Tabling 
Thursday, April 26, 10:00 a.m. - 1:00 p.m.
Sun God Lawn
For materials, please email careinfo@ucsd.edu to request posters and/or ribbons.
If you are planning a SAAM event and would like to invite CARE to present, complete our online program request. 
---
SAAM 2017 Highlights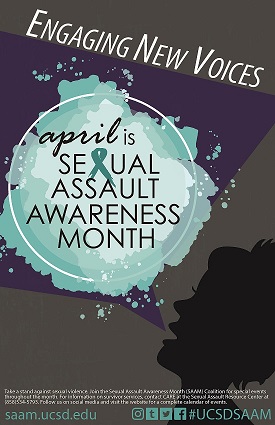 The National Sexual Violence Resource Center sets each year's theme and the 2017 SAAM theme was "Engaging New Voices." The theme focused on reaching out to influential leaders in our community that have the connections to create lasting campus change all year long. We can bring about the most change when we raise our voices together!  
National Day of Action
We kicked-off SAAM by taking action! Participants wrote postcards in support of survivors and campus violence prevention resources to their local, state, or federal legislators. 
Take Back the Night
Missy Fuego, an award-wining author, was the key-note speaker at this year's Take Back the Night. Speaker was followed by open mic testimonials where survivors shared their experiences and raised awareness about sexual violence. 

Succulents for SAAM
Succulents can thrive despite harsh conditions. They have the strength to adapt, survive, and grow. Survivors of sexual assault are just as resilient, if not more. Survivors have the power to set their own path to healing and recovery.

Denim Day
CARE at SARC and the Women's Center tabled on Library Walk to raise awareness against sexual violence and victim blaming. UCSD community was able to learn about the history of Denim Day and decorate their own denim patch to add to the denim wall. 

Navigating (self)CARE
We learned about different self-care practices, focusing on grounding techniques, while navigating through the CARE office and our resources. Participants explored how the five senses can help us stay present by creating their own snack mix, music playlist, calming jar, succulent plant, and scent sachet.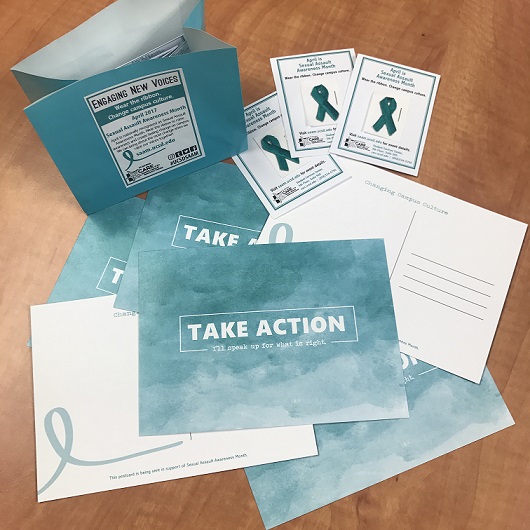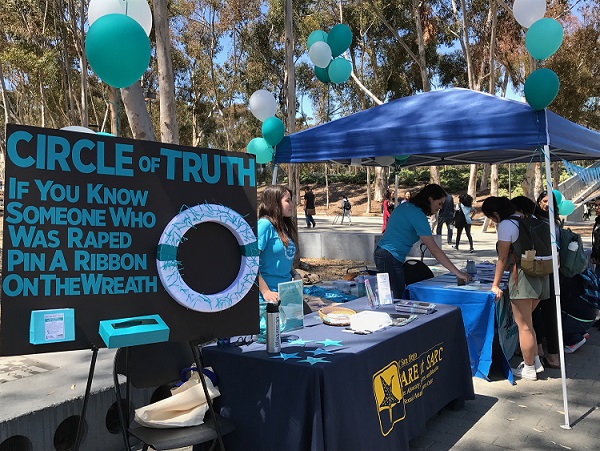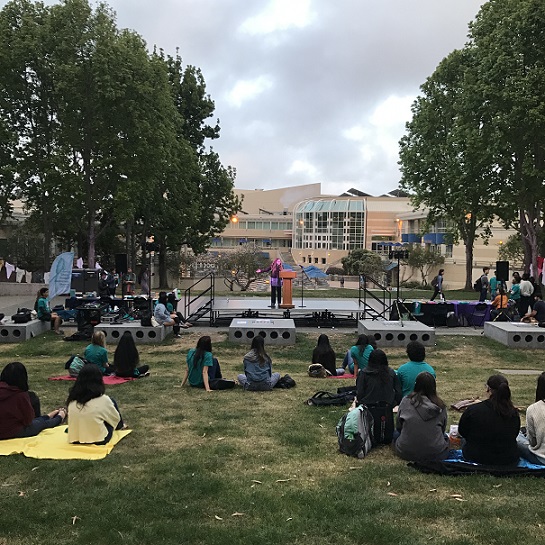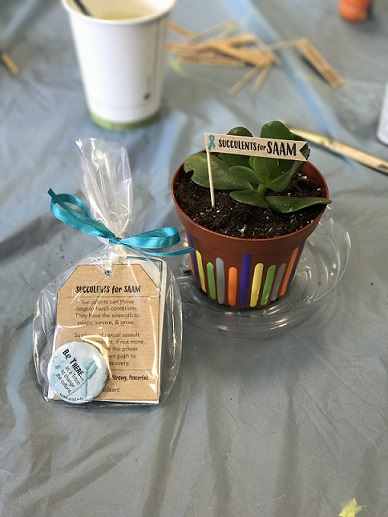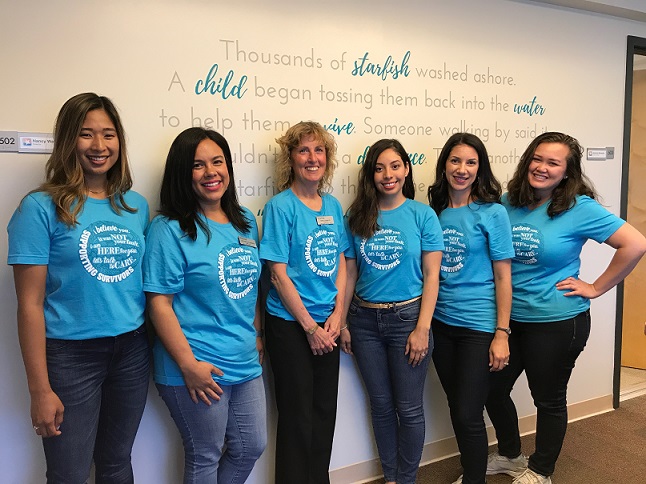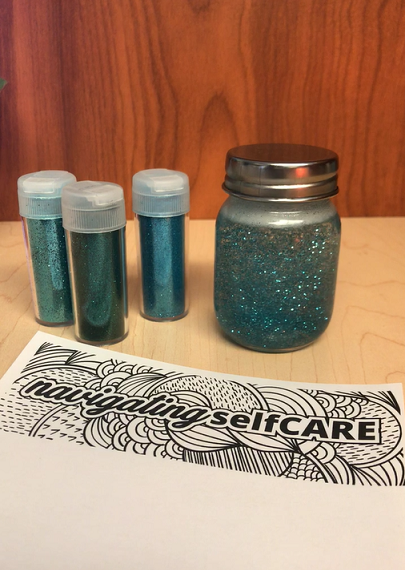 ---
Survivor Shout Outs
Survivor shout outs are a way we, as a community, can show our support to survivors of sexual assault. Shout outs will be written on a starfish shape and included at events during Sexual Assault Awareness Month (SAAM).Give a shout out to a survivor you know through our online form or visit us on our SAAM Tabling dates.
---
Join us online!
Follow us on social media to stay up to date on all CARE at SARC programs and events.
CARE at the Sexual Assault Resource Center coordinates and publicizes all campus events associated with UCSD SAAM in conjunction with the SAAM Coalition which is comprised of a number of organizations and departments at UCSD including: