Self-defense is more than a set of physical techniques. It's about building your knowledge of the realities of violence, learning and practicing assertiveness skills, and having a sense of your personal rights. Self-defense courses don't guarantee your safety, but they do increase your choices, options, and preparedness.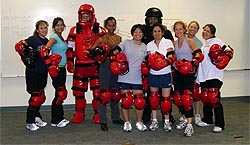 Good self-defense courses communicate these points:
No one asks for, causes, invites, or deserves a physical assault.
The victim of an assault is never at fault.
The best self-defense courses focus on identifying options and choosing the best option for each situation.
The goal of self-defense is empowerment through psychological awareness, verbal skills, and simple training techniques.
CARE no longer coordinates the RAD self-defense classes at UCSD. For more information and self-defense classes visit Rape Aggression Defense (RAD) classes and UCSD Recreation self-defense classes.