FFOG Student Organizations Fair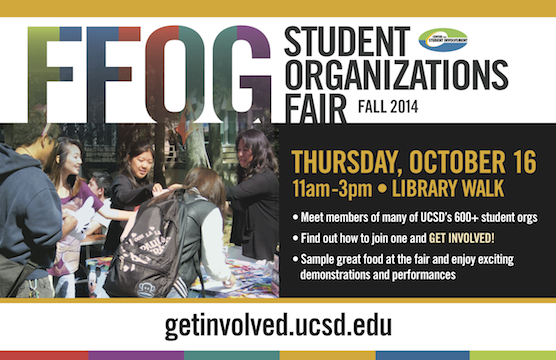 The FFOG Student Organization Fair is the beginning-of-the-year event where graduates and undergraduates get the info they need from the people they trust first — student organization leaders! 
Students will choose volunteer options, academic study groups, recreational clubs and classes, social outlets, and other group affiliations for the upcoming year based on information they get from student organization reps at FFOG.
Sponsored by the Center for Student Involvement,
the FFOG Student Organizations Fair features:
The opportunity to meet face-to-face with over some of nearly 600 student organizations
Live entertainment and performances
Food for every taste
Lots of free stuff
See a list of student organizations. Promote your student organization and recruit new members!
Organizations can host:
A variety of information and exhibit booths
Demonstrations
Ethnic food booths
Performances
Sign up your organization online beginning Monday, September 29.
For general information:
Contact
Marcia Strong
in the Center for Student Involvement, Price Center East, Level 3, (858) 534-0496. If your organization would like to perform, please indicate this when you sign up.