Mentors and Allies
Find a listing of campus contacts, mentors, and allies for Chicano and Latino students.
Develop a supportive network of mentors and allies on campus. Contact one or more of these UC San Diego staff or faculty members dedicated to supporting students like you and committed to seeing you successfully graduate from UCSD.
The faculty and staff members listed below are student-friendly and are available to meet with you upon request:
---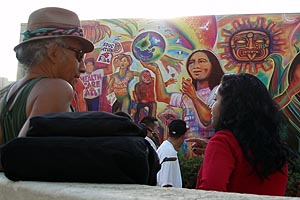 Faculty
---
Staff
---
UCSD Chicano Alumni Association
---
UCSD Chicano/ Latino Concilio
Faculty, staff, student, and alumni group
---
Chicano/ Latino Staff Association (CLSA)
---
Are you willing to serve as a mentor, or do you have a recommendation to add to this page?
Contact Haydee Cervantes, (858) 822-4059.