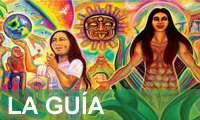 The Center for Student Involvement manages community service programs that can provide you with personal and professional development, training, and service learning opportunities in the law, education, health care, and public service.
The Early Academic Outreach Program (EAOP) is one of 9 offices administered systemwide by the UC Office of the President to increase the number of low-income and ethnically underrepresented students on UC campuses.
EAOP turns dreams of a university education into a reality for more than 85,000 California students from educationally disadvantaged backgrounds at more than 630 low-performing schools. More than one-third of the historically underrepresented students who are UC undergraduates participated in EAOP.
Since 1976, EAOP initiatives at UCSD have increased the number of low-income and ethnically underrepresented students through academic preparation programs.
The Student Promoted Access Center for Education and Service (SPACES) serves as the student-initiated and student-run access and retention center.
The SPACES mission is to act as an empowering dynamic on campus where UCSD students collaborate to achieve greater educational equity. This encompasses equal access to higher education, undergraduate retention and graduation, and matriculation to graduate and professional schools.
SPACES values the power of student-initiated action and organization by providing an environment for student growth and development, and thus is a foundation to create leadership and unity through community engagement.
TRIO houses 2 federal outreach grants: Upward Bound and Educational Talent Search. The goal of TRIO Outreach Programs is to increase the college-going rates of local, low-income students who are the first in their families to attend college.
TRIO Outreach Programs provides one-on-one academic counseling, Saturday enrichment activities, academic support services, and overnight programs for over 800 sixth to twelfth grade youths in the San Diego region.
UCSD students gain skills in leadership, education, tutoring, counseling, and program-planning as a result of working for TRIO Outreach Programs. You'll also benefit from gaining the satisfaction of working to further the goals of educational equity by impacting the local San Diego area.