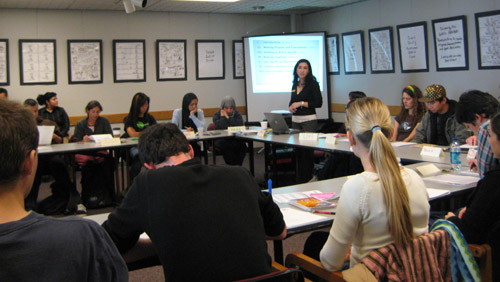 About iLead
iLead provides students the flexibility to choose workshop sessions on various communication and leadership topics that align with your individual interests and schedule.
Receive a stamp for each session you attend; 6 stamps earn you a certificate of completion and 10 stamps earn you validation on your Co-Curricular Record!
How to participate
Pick up a quarterly Schedule of Workshops from the Center for Student Involvement, Price Center East, Level 3 (map) or download the schedule of workshops (PDF).
Attend an iLead orientation and collect your first stamp on your "iLead Stamp Card". (Note: We would like every student to attend one iLead orientation at any time throughout the academic year. Your participation in iLead Orientation is not mandatory, but it will greatly enhance your experience in the program!)
Collect stamps at iLead workshops. To receive a certificate of completion, collect 6 stamps to spell LEADER. To receive a certificate of completion and validation on your Co-Curricular Record, collect 10 stamps to spell LEADERSHIP and submit a one page written reflection.
Submit program materials via Portfolium, using the instructions below.
Completing the Program (Due June 8, 2018)
Once you have collected either 6 or 10 stamps, click here to add iLead to your Portfolium
Watch the Portfolium's video on how to upload assignments: Student Assignment Completion 
Under the Portfolium's assignment, upload the following:

an image of your completed iLead Stamp Card (within "Basic Info")
a one-page written reflection (within "Details & Attachments" answering the following questions:

In the context of

iLead's Learning Outcomes

, how has your participation in iLead contributed to your own udnerstanding of your talents, values, and interests as they relate to leadership?
How will you continue to develop and apply your communication and leadership skills to facilitate positive social change at UC San Diego or in the community?
Reflection must be double spaced, 12 pt font, with 1 inch margins: Times New Roman or Arial font. 

Once your completion materials have been reviewed and your workshop attendance has been verified, a Program Coordinator will notify you of your completion of the program. At this time you will receive send you an electronic certificate of completion (and if you collected all 10 stamps validation on your Co-Curricular Record).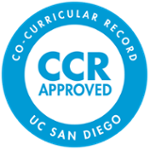 Your Co-Curricular Record (CCR) will be updated upon completion of the program. You can use your CCR to help demonstrate to employers, graduate/professional programs, and for awards the competencies and skills you gained through your experience.