Give now to the Alternative Breaks @ UCSD Support Fund.
Alternative Breaks@UCSD is a non-profit student organization.
Mission statement
Alternative Breaks are national or international service and learning trips that use education of social justice issues combined with quality direct service to have a lasting impact on students and the communities in which they work.
Vision
To create globally conscious active citizens committed to lifelong service.
Service and learning trips
Each trip incorporates 8 quality components of an alternative break, which include: Strong Direct Service, Orientation, Education, Training, Reflection, Reorientation, Diversity, and Alcohol & Other Drug Free.
Each trip is open to and includes 12 participants: 2 student site leaders, 8 participants, 1 community advisor, and 1 alumni or graduate member. Participants are recruited early in Fall Quarter.
Participants meet regularly with the Alternative Breaks @ UCSD Collaborative to discuss logistics, engage in training and reflection activities, and coordinate fundraising. The Alternative Breaks umbrella organization meets regularly with site leaders of each trip to discuss and train trip leaders on site logistics, risk management, and education before, during, and after the trip.
Possible social issues/ projects you will work with through AB@UCSD:
Caring for infants and children
Teaching children
Teaching English
Assisting teachers
Observing and assisting local health professionals
Working with people affected by HIV/ AIDS
Caring for the elderly
Caring for people with disabilities
Assisting teachers of Special Education
Working toward women's empowerment
Sharing your professional skills/ experience
Environmental sustainability and conservation
Hurricane relief
Education on sex/ drug trafficking
Native American
Learn more: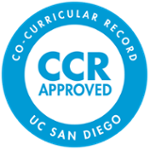 Your Co-Curricular Record (CCR) will be updated upon completion of the program. You can use your CCR to help demonstrate to employers, graduate/professional programs, and for awards the competencies and skills you gained through your experience. 
Note
Alternative Breaks is a student-run program. The University of California, San Diego is not responsible for the program or its participants.