Community Law Project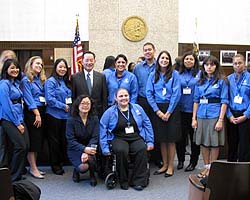 The Community Law Project (CLP) is a non-profit, student-led organization at UC San Diego that will work with undergraduate students to become more involved in law-related, community service in historically marginalized communities while preparing themselves for law school and beyond.
CLP was created to provide students with professional development, training and education necessary to prepare them for a legal career devoted to fighting for social justice. Our goal is to make UC San Diego students aware of social, political and legal issues that continue to impact historically marginalized communities, as well as to provide students with the opportunity to acquire practical experience through legal organizations and local community advocacy groups.
How to join:
Download the application and submit completed application to:
Community Law Project
Price Center East, Level 3
Phone: (858) 822-4972
Fax: (858) 534-4482
communitylawproject@ucsd.edu
Programs and services
Become a CLP board member: Once your CLP application is approved, you are a CLP member and are eligible to become a CLP Board Member the following academic year. Applications are accepted during Spring Quarter.

Special events and tours:

Superior and Federal Courthouse tours
Juvenile facilities tour
Annual Pre-Law Conference
Legal clinic volunteer opportunities

Support for pre-law students on UCSD's Pre-Law Resources webpage
Community Law Project
Price Center East, Level 3, Room 3675-C
communitylawproject @ucsd.edu
Chair:
Minh-Hieu Vu
mtv001@ucsd.edu
(408) 316-3399
Advisor:
Tiveeda Stovall
tstovall@ucsd.edu
(858) 822-4972
Mailing address:
Community Law Project
University of California, San Diego
9500 Gilman Drive
Mail Code: 0078
La Jolla, CA 92093-0078