Students focus on topics including immigrant, women's, indigent, and geriatric health, just to name a few opportunities. In order to become a Community Health Associate, students go through an application and matching process, service-learning pre-training, and are expected to serve a minimum of 4 hours per week with a commitment to serve throughout the academic year. Students participate in ongoing meetings where they process their experiences, learn new skills, and hear from professionals in various health and public health related fields.
Program Requirements
Application & matching process (Due Friday, October 7)

It is reccommened that students include their LinkedIn profile as part of their application.

Interview(s) with Community Partners (between Oct 10-21)

Pre-service orientation: Wednesday, October 26, 6p-8p

4-10 hours service per week (10 hours may be required if seeking acadmiec credit)

Year-long commitment to the Community Partner (Wees 5-10 Fall Quarter, Weeks 1-10 Winter and Spring Quarter)

Particpation in 3-5 meetings per quarter (Wendesday, 5:30-7:30p -- limited accomodations made for course conflict)

You must be enrolled full-time at UC San Diego with a minimum 2.5 GPA (preference is given to juniors and seniors, but any enrolled student may apply)

You must be able to complete 350 hours of service within the program year (mid-October to mid-June)

You must commit to serve a minimum of 4-10 hours per week at a community partner site in the San Diego community

You must be able to attend the following:

Pre-service orientation

4 to 5 bi-weekly meetings per quarter (held Mondays, 8-9pm unless otherwise noted)

End-of-Year Community Partner Celebration (Week 10, Spring Quarter unless otherwise noted)
Program Benefits
Develop numerous transferable skills that will better prepare you for medical school, a career in public health, or non-profit work

Apply coursework from majors like global health and public health to a real world situation

Potentially receive academic credit (participants may use this experience for praticum hours if paired with an academic advisor approved course, such as AIP 197. Please note, AIP 197 requires minumum of 10 hours of service per week)

Gain professional experience 

Develop networking skills

Earn strong letters of reccomendation if you succesfully complete the program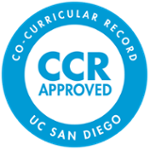 Your Co-Curricular Record (CCR) will be updated upon completion of the program. You can use your CCR to help demonstrate to employers, graduate/professional programs, and for awards the competencies and skills you gained through your experience. 
Community Health Associates Interest Form
The Community Health Associates program is sponsored by the Community Service area of the UCSD Center for Student Involvement. CHA places undergraduates from UC San Diego in year-long volunteer positions at local non-profits where they will do work around community health issues.
CHA is a non-clinical, non-academic opportunity with a focus on service to the San Diego community. If you are interested in receiving more information and notification when applications are posted, please complete the below form.