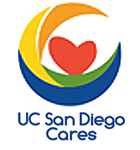 What's UCSD Cares?
For the entire month of April, CSI community Service will be holding the UCSD Cares campaign, promoting awareness, education and action on key social, environmental, and health related issues. Through monthly serbice events co-sponsored by UCSD Cares partner organizations, UCSD Cares will provide UC San Diego students oppurtunities to help make a difference in the lives of our local and global community, as well as their fellow Tritons.
As part of the 2018 UCSD CARES Week happening Week 6 (May 7th-May 12th), the Center for Student Involvement (CSI) is highlighting how students and organizations at UCSD care about our local San Diego community through our website, listserv, and Facebook pages. We are holding a week of various events and service projects hosted by various student organizations and CSI to show just how much UCSD CARES.
How can I get involved?
As a department or student organization, we'd love to coordinate an event or initiative as part of UCSD Cares. Please contact them here: CSI Staff Contacts
Join the mailing list-serv: https://mailman.ucsd.edu/mailman/listinfo/ucsd-cares-l
As an individual, attend any of the UCSD Cares events you may be interested in and find out ways to get involved! If it's after the events, feel free to contact those student orgs or departments for more information and resources.