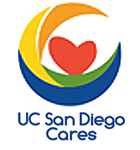 What's UCSD Cares?
For the entire month of April, CSI community Service will be holding the UCSD Cares campaign, promoting awareness, education and action on key social, environmental, and health related issues. Through monthly serbice events co-sponsored by UCSD Cares partner organizations, UCSD Cares will provide UC San Diego students oppurtunities to help make a difference in the lives of our local and global community, as well as their fellow Tritons.

Monday, April 17th - Saturday, April 22nd marks the commencement of the 2017 UCSD Cares Week, with events each day focused on a different issue, and hosted by student organizations, the Center for Student Involvement, and various partners on campus and in the community. These events will highlight a plethora of community-service and outreach opportunities open to all students, emphasizing the UC San Diego community-service mentality.
Who coordinates the UCSD Cares Week and Campaign?
UCSD Cares is a program within Center for Student Involvement's Community Service. The Program Coordinator and Graduate Assisant in Community Service plan and coordinate the committee, partnerships, and planning the week and month long events. 
How can I get involved?
As a department or student organization, we'd love to coordinate an event or initiative as part of UCSD Cares. Please contact them here: CSI Staff Contacts
Organization Partner Registration: https://goo.gl/forms/cIxi1BHnKqbnHaeE2
Join the mailing list-serv: https://mailman.ucsd.edu/mailman/listinfo/ucsd-cares-l
As an individual, attend any of the UCSD Cares events you may be interested in and find out ways to get involved! If it's after the events, feel free to contact those student orgs or departments for more information and resources.