Go Greek!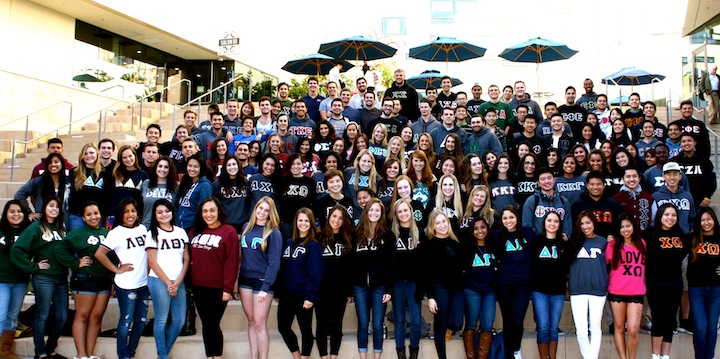 Welcome! We are excited that you are interested in Greek Life at UC San Diego.
Are you a person who values leadership, service, intellect, lifelong friendship? If so, Greek Life is for you!
There are around 43 social Greek organizations on campus. The fraternity and sorority community at UC San Diego stands for academic excellence, service, responsible leadership and true friendship.
With 23 fraternities and 20 sororities, including 18 culturally-based Greek letter organizations, Greek Life provides a unique opportunity for students to be part of a more than 200-year-old tradition.
Greek organizations exist to:
Further the institutional mission of UC San Diego and connect students to the campus.
Encourage the intellectual, personal and, in some cases, spiritual development of their members.
Create a culture of high academic expectation and achievement.
Promote high standards of behavior, consistent with their ritual and founding values.
Promote brotherhood/sisterhood and true friendship among individual and organizational membership.
Establish a culture of leadership and service through campus and community involvement.
How to Join
All social Greek organizations at UC San Diego are affiliated with one of three applicable governing councils: Interfraternity, Multicultural, and Panhellenic. In accordance with historical purposes and perspectives, these councils serve as foundations and forums for collaboration, while working to promote the defining features of this community.
The Interfraternity Council at UCSD is comprised of 14 traditional men's fraternities.  These groups host recruitment periods during the start of fall and spring quarters. The start of each recruitment week kicks off with the IFC Info Night where potential members can get a sneak preview of each individual brotherhood on campus and get to know members from each chapter. After that, it's up to you which events to attend!
Alpha Epsilon Pi
Alpha Lambda Mu
Beta Theta Pi
Kappa Sigma
Lambda Chi Alpha
Phi Gamma Delta (FIJI)
Pi Kappa Alpha
Sigma Alpha Epsilon
Sigma Alpha Mu
Sigma Chi
Sigma Nu
Sigma Phi Epsilon
Tau Kappa Epsilon
Triangle
The Multicultural Greek Council at UCSD is comprised of 9 fraternities and 9 sororities whose foundations are based on cultural pride and awareness. Each sorority and fraternity recruits at the beginning of fall and spring quarters in ways that are unique to each specific chapter. MGC recruitment info session will provide an opportunity to meet all chapters. Be sure to visit the MGC tables on Library Walk during Welcome Week and Week 1 of classes to get more information.
Alpha Gamma Alpha
Alpha Epsilon Omega
alpha Kappa Delta Phi, Inc.
Delta Lambda Phi
Gamma Zeta Alpha, Inc.
Kappa Zeta Phi
Lambda Theta Nu, Inc.
Lambda Theta Phi, Inc.
Nu Alpha Kappa, Inc.
Phi Iota Alpha, Inc.
Phi Lambda Rho, Inc.
Pi Alpha Phi
Psi Chi Omega
Sigma Alpha Zeta, Inc.
Sigma Omicron Pi, Inc.
Sigma Pi Alpha, Inc.
Interest Groups

Delta Sigma Theta, Inc.
Lambda Phi Epsilon, Inc.
The Panhellenic Council at UCSD is comprised of 10 nationally-affiliated traditional sororities, and 1 associate member sorority. A formal recruitment is held during the start of fall quarter, where potential members are introduced to every chapter on campus and participate in a mutual selection process to join. Registration begins during the summer. Visit the PHC website to participate.
Alpha Chi Omega
Alpha Epsilon Phi
Alpha Omicron Pi
Chi Omega
Delta Delta Delta
Delta Gamma
Kappa Alpha Theta
Kappa Kappa Gamma
Phi Sigma Rho
Pi Beta Phi
Sigma Kappa