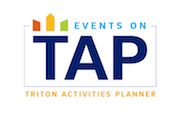 Who can submit a TAP for an event?
Students listed as principal members of registered student organizations may submit a TAP:
When do I need to TAP?
All on-campus events (with the exception of simple meetings, simple dance rehearsals and information-only tables) require a TAP submission.
TAP deadlines
You must begin the TAP process 21 or more days before your event date.
Each of the following items must be included at that time:
Event time
Facility confirmation with corresponding reservation I.D. numbers, if applicable
Event description, and
Confirmed funding information
Any remaining TAP modules or written documentation of funding sources (split funding forms, etc.) must be completed/turned in no less than 14 days before the event date.
TAP Checklist
Use the checklist below to find out what orders/ reservations you may need to make BEFORE you use TAP. Make sure you record all reservation/ confirmation numbers you receive with your orders.