UCSD Shuttle Service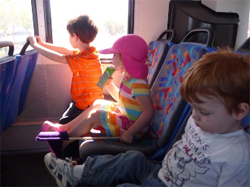 Children are permitted on all UCSD shuttles *except* the Scripps Institution of Oceanography (SIO) shuttle or any shuttle that runs on a 15 passenger van. In the future the SIO shuttle may upgrade to a different vehicle, at which point the university policy regarding minors will be re-evaluated.
This means children can ride the Mesa, Loop, Hill Crest, Coast, Nobel, Arriba, Torrey Pines, Old Town East and Regents Parking Shuttles. For more information about shuttle service please visit ucsdbus.com
If you encounter any concerns while boarding a UCSD shuttle with children, please kindly request that the driver "contact UCSD shuttle base" via the radio system for assistane.
Public Transportation
With your UCSD bus sticker, children under age five ride for free! Enjoy this service to ride on the free bus zone. For more information check the UCSD Bus Zone page.