Commencement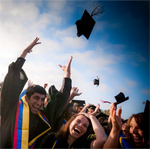 At UC San Diego we recognize the significant milestone graduation marks in a student's life.
Class of 2015 ceremonies
All undergraduate ceremonies are held at RIMAC Field. Link to each college's commencement details below, and contact your college for more information.
Saturday, June 13
Sunday, June 14
Graduate and professional school ceremonies
Check back for more details as they're announced, or contact your school for more information:
Class of 2016 ceremonies
The class of 2016 will be the first to participate in a new commencement tradition — a campus-wide ceremony at UC San Diego. The ceremony will include the conferring of degrees for graduating seniors from all six undergraduate colleges, as well graduate students from the Graduate Division, the Rady School of Management, and the School of International Relations and Pacific Studies. Watch for more details in early 2016.