Commuter Fridge
Last Updated: October 11, 2023 3:18:11 PM PDT
At Price Center — a secure place to store lunches brought from home.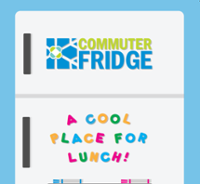 Do you bring lunch but hate to carry it around all day? Now there's a safe place to stash it!
HOW? Works like a coat check system — your food will be safe and secure in the Commuter Fridge!
WHEN? Monday – Friday, 8 a.m. to 8 p.m. (closed during summer and breaks)
WHERE? Commuter Fridge is located inside The Exchange / Gameroom, Price Center West level 2 ( above Dirty Birds)
How It Works
Sign in; fit perishable food in storage bin
Take button with your number — do not lose it
Return the button and pick up your food before 8 p.m.
Rules & Policies
This is a day-use service — no overnight storage
Food items must fit in one storage bin
Food must be picked up same day — items left after 8 p.m. may be discarded
Medications, alcohol, and illegal substances are prohibited