Electronic Health Record (EHR) Platform
Last Updated: July 12, 2022 12:06:46 PM PDT
EHR offers an online patient portal, access to providers, and enhanced security.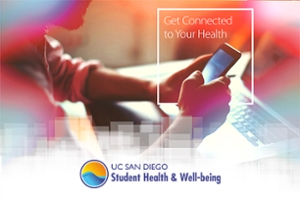 UC San Diego's Student Health & Well-being teams use Epic — the country's leading electronic health record (EHR) system, also in use by UC San Diego Health.
As a patient of Student Health Services (SHS) and Counseling and Psychological Services (CAPS), you'll receive enriched connectivity and access to health care resources no matter where you are, whether on- or off-campus.
Convenience and peace-of-mind
With the MyStudentChart patient portal and mobile app, you can:
Request appointments online
Message your providers
View test results
Request prescription refills
Schedule online or tele-visits
Superior protection and security measures safeguard access to your private and confidential medical and mental health information.
Activate your account
Visit mystudentchart.ucsd.edu and follow the instructions to activate a MyStudentChart account with your UC San Diego AD/ student email log in.
Privacy standards
It is of utmost importance that disclosures of health information by SHS and CAPS providers are in accordance with student preference, Federal and State laws, and ethical standards.
Questions?
To activate your account, visit MyStudentChart.ucsd.edu.
Further inquiries regarding Student Health & Well-being's use of the Epic electronic health record platform may be directed to studenthealth@ucsd.edu.
Privacy questions may be directed to the Office of Compliance and Privacy at (858) 657-7487 or hscomply@ucsd.edu.