Black's Beach: Access and Safety
Last Updated: July 12, 2022 1:19:53 PM PDT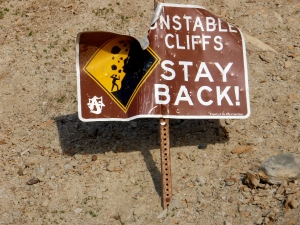 Read about potential hazards of visiting Black's Beach.
Black's Beach: Beautiful but dangerous
Located just west of campus below the Torrey Pines Gliderport, Salk Institute, and La Jolla Farms, Black's Beach is famous for its natural beauty and great surf. It's also known for its surrounding dangers: unstable cliffs, rockslides, and frequent riptides; all of which are naturally occurring conditions.
Warning! Stay far away from the cliff walls and rocky over-hangs at all times. Areas where canyons converge on the beach are less susceptible to rock slides and can be safer places to gather on the beach.
Important points to remember when visiting Black's Beach
Remote location with difficult access
No designated swim zones or flags
Riptides are prevalent; water conditions are not for the novice surfer or swimmer
No restrooms or showers
Nudity (prohibited, but practiced) on the north side of the beach
Students taking advantage of Black's should be aware that beach access is challenging. Surf conditions can be difficult, especially during the fall and winter months. Use caution and always swim within sight of a lifeguard.
Lifeguards are on duty approximately 9 a.m.–dusk everyday, year-round.
Dial 911 to contact lifeguards if none are on duty, or use the yellow emergency call box in the parking lot at the bottom of the access road at the south end of the beach.
Black's surfing break is surrounded by two significant riptides, and only experienced swimmers and surfers should enter the water. There are no designated swim zones or flags to warn swimmers of rip currents.
Generally one riptide occurs on the north peak and another off the access road at the south peak. However, these currents can form anywhere along the beach and become violent when the waves reach extreme heights during the winter months. The surf zone just south of the access road tends to be safer.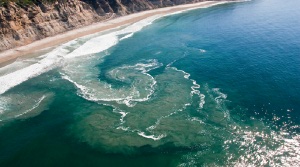 Aerial riptide photo by Tom Cozad.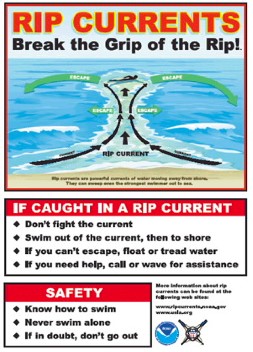 La Jolla Shores
 and 
Scripps Beach at the pier
 are excellent alternatives to Black's Beach. Both have ample parking, year-round lifeguards, legal fire pits, bathrooms, and overall safer conditions. The convenience and security of utilizing these alternatives make for an outstanding beach environment.
The least dangerous route to Black's Beach is by way of either Torrey Pines State Beach (to the north) or La Jolla Shores/ Scripps Pier (from the south).

There is ample parking at either location; however, both of these routes are only passable at low tide.

The most convenient route walking from campus is the access road marked by a black gate at the intersection of La Jolla Farms Road and Blackgold Road. This is a small paved road with restricted passage for vehicles but open access to the public on foot. This access point is just west of Muir College and leads to the south end of Black's Beach.

There's an emergency/ 911 call box located at the gate at the top of the access road
Trash cans and recycling bins are located at the bottom of the road for convenience.

Alternative access can be gained via the trail at the Torrey Pines Gliderport. This steep, narrow dirt trail is less reliable than the paved access road and subject to unpredictable erosion.

Proper footwear should be worn and caution should be taken at all times to avoid falling or injury.
This trail should not be used during or after rainfall due to unstable steps, mud, and washouts.
This access point is just west of North Campus and leads to the north end of Black's Beach.
View Black's Beach Google Map overview.