Events and Enrichment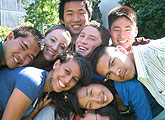 Find out how to enrich your life at UCSD.
Learn about all kinds of fun things to do on- and off-campus including culture, dining, shopping, fitness, and more.
Cheer on your Tritons at games, and participate in fitness classes or intramural teams yourself.
Get discount tickets to concerts.
Find out what's going on at the Price Center, Student Center, and the Che Cafe.
Bringing national and international artists to UCSD.
Get the latest on master classes and performing arts events.
Check out upcoming indie rock/pop concerts, underground comedy acts, and local visual arts events.
Enjoy world-class theater productions (student discounts are offered).
Achieve total wellness with a wide variety of programs and classes.
Learn about local and emerging artists.
The Libraries' home page lists news and upcoming events.
Enhance your artistic skills with quarterly classes and one-day workshops.
Sign up for the events mailing list, or call the concert hotline: (858) 534-3229.
Literary conferences, annual lecture series, and the New Writing Series. Sign up for the e-mail newsletter, or follow the Literature Department's blog for announcements.
Find performance schedules, including annual new play festivals, and New Directions, a showcase of works from the department's top undergraduate choreographers.
Find information on gallery shows, performances, and speakers, on- and off-campus. Be sure to check out the Visiting Artist Lecture Series each year.