Graduate Programs at UC San Diego
Last Updated: June 28, 2023 4:02:28 PM PDT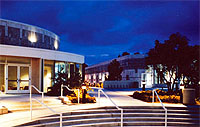 Learn about UC San Diego's graduate and professional programs, and link to campus resources for graduate students.
Graduate and professional school programs
Graduate Division
Graduate Division Academic Advisors assist all graduate programs to ensure compliance of the Academic Senate and UC campus policies, procedures and regulations. They also advise all of the campus graduate coordinators regarding the academic requirements and exceptions to policy for curricular changes and graduation requirements.
Advisors also meet with doctoral and master's students when they complete their degrees to advise them of dissertation and master's theses preparation.
Graduate program coordinators
Graduate students work with their graduate coordinators who are specialists in the general education requirements of their respective programs.
Coordinators are responsible for assuring that students comply with all campus educational regulations and policies. Along with their faculty advisors, graduate coordinators are available to discuss with students their overall academic curriculum and degree requirements.
Serving as the first point of contact, a graduate coordinator is the main resource for graduate students from admission to graduation.
Career Center guidance
Use these planning resources from the UC San Diego Career Center: