Who is that fierce forked creature?
According to Greek myth, Triton is god of the sea, son of Poseidon (Neptune) and Amphitrite.
Given UC San Diego's close proximity to the Pacific Ocean and its connections with the world-famous Scripps Institution of Oceanography, Triton was aptly chosen as the university mascot in 1964.
Half-man, half-fish, Triton is a mighty warrior of the deep. He rides the waves on giant seahorses and sea monsters, carries a trident, and blows a conch shell like a trumpet to calm or stir up the waves.
Stir up your own tide of Triton spirit!
Sing along with the Triton Fight Song: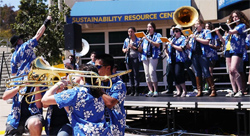 Listen to the UC San Diego Triton Fight Song (MP3), recorded by the UCSD Pep Band; lift your voice and follow the lyrics:
Fight on,
 with mighty Triton spirit,
Hail to, the Triton name.
Men and women
 march victorious,
On to fame.
Fight on,
  the Triton host prevails,
March on, in unity —
Bold and strong we fight
 for Triton victory.
U-C-S-D! Fight! Fight! Fight!