How to Request a Verification
How to Request a Verification
Last Updated: September 14, 2023 5:46:38 PM PDT
Learn how to obtain official verification of enrollment and other student data.
If you have never ordered a verification before, please read through all of the instructions below. 
Verifications can provide any combination of the data below for any student level: 
Enrollment, major, level

 

Number of units completed

 

Degrees awarded

 (if any)

Cumulative and quarterly GPA

 

Registration fees paid by term

 

Expected graduation date (self-reported, make sure to include both term AND year)

 
Verifications do not include: 
Date of birth

Address on file
Log into the Academic History tool to:
View your terms of attendance
Confirm grade entered
Confirm your degree status, if applicable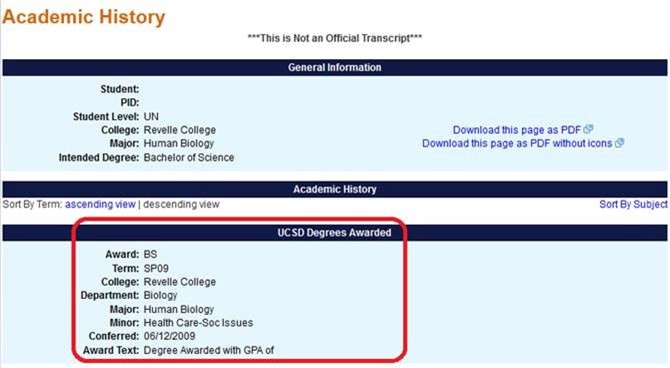 Alumni can access the Academic History using Social Login.
Students who have graduated prior to 1991 will need to order official transcripts, as they no longer have access to their online academic history (unofficial transcript).
Service 

Processing time/additional info 

Fee 

Electronic Verification - PDF 

Emailed to requested recipient usually within 15 to 30 minutes of submission. 

Covered by the one-time document fee 

Paper Verification - Mailed 

Mailed same day if ordered by 1:30 p.m. PST. 

Paper Verification– Mailed with Attachment 

Consider this service when documents need to be sent with your verification or require a Registrar's Office signature or notarization.  

 

Mailed within 3 – 5 business days 

International 1st Class Airmail 

Mailed same day if ordered by 1:30 p.m. PST. 

$2.50 

FedEx Delivery 

Orders without attachments are mailed the same day if ordered by 1:30 p.m. PST. 

 

Orders with attachments are mailed within 3 – 5 business days.  

$22.50 to Domestic Addresses 

 

$45.00 to International Addresses 
**All fees associated with your transcript order are non-refundable.
For the requests below, please make sure to include your PID in your request. Please allow 3 - 5 business days for a response. 
Letter of non-attendance 

Please provide us with the individual's name, date of birth and last four digits of their social security number.  You may also include third party information if you would like our office to mail or email the letter to another recipient.  The Office of the Registrar will write a letter once they confirm the individual's non-attendance.