Guidelines for appropriate pictures
Face must be clearly visible, centered, and directly facing forward to the camera. No profile shots or angling the camera.
Photo must be taken from above the top of head to the shoulders; no shots only displaying the head.
Photo must be in color – passport-style photos work best (please do not scan your actual passport, as the holograms and other security measures reduce the photo quality.)
No photocopies or scanned pictures – please submit original digital copy.
Student must be the only person in the picture.
Photograph must have a uniform white background (ie: a white wall) – no patterns.
No hats or sunglasses can be worn.
No graduation caps, gowns, or costumes can be worn.
Nothing can be touching the face such as hands, signs, or props.
Photo must have even lighting.
No camera filters.
Photo size up to 2 MB or 2048KB in JPG format.
Unacceptable photos

Acceptable photo example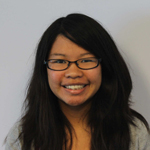 Acceptable ID card example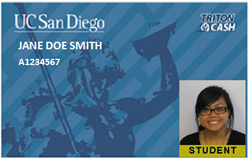 Complete and submit this form to request a Student (Triton) Card
Triton ID Card Terms
If you need a Triton Card, see how to get or replace your card.
As a University Cardholder, I understand that:
A Triton ID card is the property of the University of California, San Diego, (UC San Diego).
I am responsible for the use of the Triton ID Card. I understand that the ID card is not transferable; therefore I cannot lend, sell or give the card to others.
Unauthorized use of the ID card or use by a party other than me, as well as tampering or alteration of the ID card in any manner, may warrant confiscation of the ID card and will result in disciplinary action(s) under the Student Conduct Code.
I will not request a replacement ID card if I already possess an ID card and have not lost or damaged it. 
I must carry the Triton ID Card at all times when conducting university business or attending university functions/events for proper identification.
A Triton ID card is valid only while a student is registered, a university employee or affiliate is active, or until the card is expired or revoked.
The ID card is the property of UC San Diego and must be surrendered upon request.
I must report a lost or stolen card to the Campus Card Office immediately via e-mail.
Only university equipment can update, deactivate, or produce campus ID cards.
My photo is stored in the ID card database and cannot be provided to me for personal use. The university protects personal identification information as private data. This data will not be released outside the university, except in response to a subpoena or other legal processings, of which I will be informed (in advance, if possible unless court proceddings request otherwise).
Card Replacement Guidelines
There is no fee for the first Triton Card.
A $15 fee will apply for replacement of a lost card. Stolen cards will be replaced for free with a copy of the police report.
ID cards that are damaged due to normal wear and tear will be replaced without charge. ID cards that meet one of the following conditions can be replaced at no charge:

Faded/damaged magnetic strip
Faded photograph

Damaged ID cards must be surrendered to the Campus Card office for proper disposal.