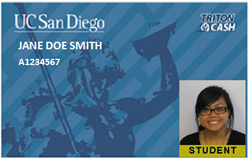 Your Triton Card is your key to the campus. In addition to serving as your official photo identification card, the Triton Card gives you access to campus buildings and events and lets you:
Activate your Triton Card for printing / copying
Use your card for printing and copying documents, using Imprints iaccess services.
TritonCash debit card
When you deposit funds to your Campus Card, it becomes a Triton Cash Debit Card, allowing you to make cash-free purchases at many on- and off-campus locations.