Dining @ UCSD
Last Updated: June 6, 2023 4:59:36 PM PDT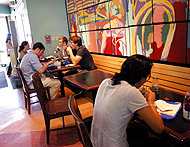 Find places to eat (on or off your college campus), and learn about UC San Diego dining plans — and how to pay for meals and food with your campus ID card.
On-campus restaurant locations and retail markets, perfect for enjoying a leisurely meal or stocking up on fresh produce, snacks, and other sundries.
A complete list of places to get food on campus. Choose from restaurants, cafés, fast food, and pubs; student dining facilities; and stores.
The Dining Dollars plan is designed to be flexible for an array of lifestyles and appetites. Dining Dollars are linked to your campus ID card, and can be used in all UC San Diego Dining Services restaurants and markets.
A complete list of student dining facilities and markets, with menus and hours of operation (also open to faculty, staff and visitors).
Triton Cash offers a wide variety of purchasing power to UC San Diego students, faculty, staff, and affiliates through their Campus ID card. It's secure and accepted at 50+ locations on and off campus.