Technology, Computing, and Labs
Last Updated: June 16, 2023 10:14:11 AM PDT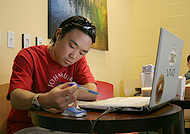 Learn about various technology resources on campus: computers, email, tech equipment, copy services, computer labs, and locations where you can study and/or print.
Computer labs, printers, and study locations
Special-purpose labs are available to students enrolled in certain classes and majors. Find available facilities, and use the Account Lookup Tool to find out if you have access to one.
Equipment checkout
Technology basics
Email
Campus network
Wireless service on campus
Rules and guidelines
Other tech topics and services