Campus Safety
Last Updated: October 8, 2023 11:04:20 AM PDT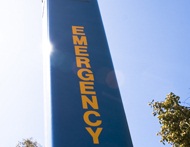 Campus safety is everyone's responsibility. From personal to group safety, you'll find excellent resources here.
Triton Alert emergency notifications
UC San Diego's Triton Alert emergency notification system uses a phone and email notification system to keep you updated in emergency situations — by email, SMS (text messaging), and voice messaging. Choose the method(s) you prefer, and update your preferences any time.
Safety escorts and safe rides
Emergency preparedness
Do you know what to do in the event of a fire, earthquake, or tsunami? Visit UC San Diego's emergency planning page and learn about campus resources for emergency status, responses to different types of incidents, and training.
Active shooter training video
Stay safe, stay prepared: Campus police encourages you to watch this important active shooter training video. Be aware, the video features simulated acts of violence, which may be disturbing to some viewers.
Important campus contacts
Police: Our campus Police Department is a diverse organization dedicated to providing the highest quality police service to students, faculty, staff, and visitors. They offer many valuable services, from lost and found to reporting a crime.

Center for Advocacy, Resources, and Education (CARE): CARE offers workshops on violence prevention for the entire campus and provides free and confidential services for students, staff, and faculty impacted by violence, with a focus on survivors of sexual assault, relationship violence, and stalking.

Environment, Health & Safety (EH&S): EH&S supports student researchers and takes an active role in protecting everyone's health and the environment. Read about UC San Diego research safety — policies, procedures, and services for research and teaching laboratories.