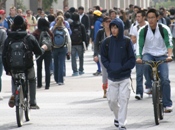 Spring Quarter 2019 fees are due Friday, March 22, 2019.

Important notes about registration fees:
Fees are subject to change.
See an Explanation of Registration Fees.
We strongly recommend that all students make payment or make arrangements for payment of registration fees on or before March 22 for Spring Quarter 2019.
Options for payment include financial aid, Student Financial Solutions TRIP program, Financial Aid/ Veterans Affairs deferment program, or departmental funding (graduate students only).
If you do not pay your fees, you will be dropped from all of your Fall classes and waitlists.

Once your classes and waitlists have been dropped, there is no guarantee that you will be able to re-enroll in the classes that you originally enrolled in.
Additional Fees:
Fall Quarter 2018:
Winter Quarter 2019:
Spring Quarter 2019: