Fees
Last Updated: August 2, 2023 8:16:44 AM PDT
Link to information on various types of fees for UC San Diego students.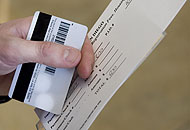 Your registration fees:
Special circumstances:
Other types of fees:
Fees for students who are not residents of California:
Eligibility for reduced fees for part-time students:
Questions?
Find answers, request services, or get help from our team by going to the UC San Diego Services & Support portal. Click the button below if you have additional questions.