About CES
Last Updated: September 9, 2022 6:06:05 PM PDT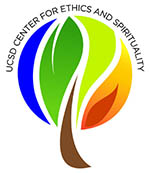 The Center of Ethics and Spirituality (CES) has served UC San Diego students, faculty and staff in their exploration of and growth in spiritual well-being since 1967.
Why use CES?
Spiritual well-being helps us find meaning in life events and find our purpose. Spiritual wellness can include values, ethics, morals, and religious faith to help establish peace and harmony. Ultimately, our spiritual wellness increasingly allows us to live daily in a way that is consistent with our values and beliefs rather than being untrue to ourselves.
Regardless of whether you have a religious affiliation or not, there is always something to be learned about who you are in relation to the world around you and your purpose in life.
Towards this end, we provide:
Interreligious dialogue in a supportive and inclusive environment
Lectures exploring critical issues on the relationship between religion and society and on the religious dimensions of being human
Opportunities to connect with UCSD students with various worldviews in social and service contexts
Students have brought a variety of experiences to us, because all aspects of life can have spiritual implications. More general questions we have found students wrestling with are (but not limited to):
Who am I? What is the purpose of my life? What am I going to do with my life? How do I find a career that is meaningful rather than merely functional? What do I value? Why do I value what I do? Why do I have the friends that I do? How do I interact with people who think or live differently than I do?
For whom am I? Will I be loved or will I be alone? How do I better relate to others and form genuine relationships? What relationship do I have with my family now that I don't live at home? What does it mean for me to be in a committed, romantic relationship? How do I integrate sexuality into my life?