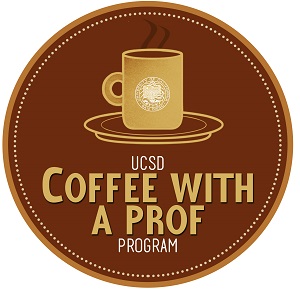 Undergraduate students may participate in the Dine-With-a-Prof program once per quarter during the academic year and the Coffee-With-a-Prof program twice per quarter during the academic year.  Neither program runs through summer sessions.
We're excited to announce the expansion of the Dine-With-A-Professor program!  See below for our additional options that will be available starting in Winter Quarter!
Interested?
Here's how the programs work.
Step 1:
Check with YOUR college to make sure that there are vouchers available.  Due to high demand, our quarterly supply of vouchers are usually exhausted by Week 8 or Week 9, so plan ahead!
E-mail your college's program representative to check if there are vouchers available:
Step 2:
Contact your professor or graduate teaching assistant (TA) and choose a date, time, and location to meet for coffee or a meal.
Check the appropriate website for operating hours
Check the appropriate website for operating hours!
Dear Professor Smith,
My name is John Muir and I'm currently a student in your ENVR 101 course.  Would you be interested in having lunch or coffee this quarter?  I'd really like to get to know more about your research and how you got started in your field.  There are two great programs (Dine-With-A-Professor and Coffee-With-A-Professor) that will let us get coffee or lunch for free!
Thank you an I look forward to hearing from you!
-John
Step 3:
AFTER your professor or TA have confirmed everything in step 2, stop by your college's Student Affairs Office to sign up and pick up your voucher.  This voucher is your ticket to free food or free coffee and can only be redeemed by the professor at a participating location.  If you sign up for the program and have not come by to pick-up your voucher after five business days, your voucher will be forfeited and made available for another student to use
Step 4:
Enjoy your time with your professor or TA!  If you want some conversation starters for your meeting, see the Table Topics below!
Table Topics
-How did you get interested in your field?
-How have you seen ______ field grow and develop in the past few years?
-What changes do you anticipate in the field?
-What do you believe are the hottest growth areas in your field?
-What advice do you have for someone just entering the field?
-What do you like to do when you're not teaching?
-Where are you from? Where have you traveled?
Step 5:
Give us feedback!  At the end of the quarter, you will receive an invitation to participate in a survey about your experience with the program.  Please fill this out as all feedback is welcome and helps us improve the program!