Writing Resources
Last Updated: March 11, 2022 12:50:59 PM PST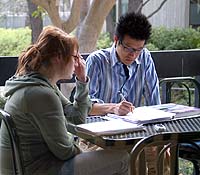 Find links to campus writing programs, and resources to help you with your writing requirements and assignments.
Writing help
Writing Hub: Supports undergraduate and graduate student writers through one-on-one writing consultations. Students can get feedback on any writing project at any stage in the writing process — brainstorming, topic selection, organizing ideas, polishing a final draft. Visit WCOnline to sign up for an appointment. The Writing Hub also offers writing workshops, writing retreats, writers' rooms, and other writer-focused academic support services.

OASIS Language Arts Tutorial Services (LATS) Program offers free individual tutoring sessions and free group writing workshops. Workshops are catered specifically toward DOC students as well as students taking Analytical Writing Program courses. Workshops are also available for developing and improving your study skills.

Sixth College's CAT Writing Studio provides one-on-one peer coaching to students in the Culture, Art, & Technology (CAT) program.
Writing programs