Tips for Academic Success
Last Updated: October 6, 2022 9:12:02 AM PDT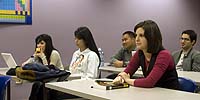 Use these tips and techniques to improve your academic performance and optimize your learning experience.
Attend classes regularly
Remember that no one makes you attend class, but with UC San Diego's fast-paced quarter system, you miss valuable information if you skip a class session.
Get to know your instructors and TAs
TAs and instructors are here to help you and want to see you succeed. Find out your instructors' office hours and plan to visit at least once when the quarter begins.
Introduce yourself and establish direct contact so you'll feel more comfortable going to your instructors with questions or problems.
Use free meal or coffee vouchers provided by the Dine-with-a-Prof program to share lunch and conversation with your professor at the Faculty Club, or coffee and a chat at the Loft.
Get to know your academic advisors
To find academic advisors by department or program, contact your department. To find academic advisors by college, contact your college.
Academic advisors can:
Direct you to specific resources on campus.
Help you explore different majors and career paths.
Assist you in choosing courses each quarter.
See if your department offers free tutoring
Many departments provide free tutoring or study programs to students:
Check the list of tutoring resources by subject to see if there's help offered for your particular class or department.
Ask your instructor, TA, or department head about available tutoring programs.
Visit the department's website or bulletin board to see if regular tutoring or study table sessions are offered.
Check each quarter's Teaching + Learning Commons schedules
The Teaching + Learning Commons offers tutoring and supplemental instruction (formalized study groups), free to all students.
Learn more about math tutoring.
Read more and find the current schedule for supplemental instruction.
Visit the Writing Hub to learn more about writing tutoring for undergraduate and graduate students as well as the current schedule for writing workshops and retreats.
Check each quarter's OASIS schedules
OASIS offers workshops for math, science, language, writing, and ESL courses.
Learn more about the OASIS language and writing workshops.
Sign up for workshops if you have a class in biology, chemistry, or math. Check the math and science workshop schedule before each quarter begins, and sign up for the workshop that follows the class you're enrolled in. Workshops begin the 2nd week of classes; reserve a workshop spot no later than the 4th week.
You can also drop in at the OASIS Math 3C study table, where tutors help explain concepts and answer questions. The math study-table schedule changes frequently, so check back often with OASIS for dates and times each quarter.
Locate resources for writing help
In addition to the Writing Hub and OASIS language and writing workshops, writing help may also be available through your college.
See a list of college and campus writing resources, so you know where to go when you need extra support or advice.
Consider choosing a study partner for each of your classes
Ask a classmate to act as a study partner to compare notes and discuss concepts.
Agree that if one of you must miss a class, the other will take notes and share them.
Consider meeting regularly with your study partner to review concepts and quiz each other on materials.
Schedule adequate study time for each of your classes
Plan to spend a minimum of 2 hours studying outside class for each hour you spend in class. For example, if you attend 12 hours of class each week, plan for at least 24 hours outside class to study.
Take notes, and use them wisely
In addition to taking detailed notes in class, always recopy your notes; that is, copy them completely over again, as soon after class as possible.
It's one of the most important strategies to help you fully comprehend the information provided in each class lecture, fix the information firmly in your memory, and discover the concepts you don't fully understand.
Use course handouts provided by your instructors
Course handout materials, including lecture outlines, objectives and practice exams, are designed to help you organize and learn the material being presented in class. Make use of them as much as possible.
Instructors usually provide assigned readings in the course syllabus or other handouts. Spend 10 to 15 minutes before class and skim the assigned pages. This will familiarize you with the basic concepts and terminology for that lecture and prepare you to take more organized notes.