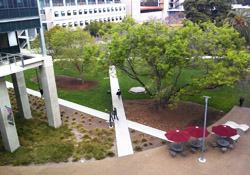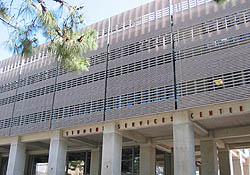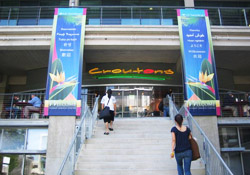 The 5-story, 76,000-square-foot Student Services Center at the corner of Rupertus Way and Myers Drive, just south of Price Center East, across the courtyard from the Chancellor's Complex (map).
The Student Services Center is a one-stop resource located in the heart of campus. Most student business offices are located here, so students can conveniently access multiple services in one location.
The SSC also serves as the gateway to UC San Diego, with over 40,000 visitors annually passing through. Students visit the SSC with their families as prospective students, and continue to visit as they make the transition to admitted, then current UC San Diego Tritons.
Booking a conference room
To book a conference room in the Student Services Center, go to reservations.ucsd.edu.
SSC conference rooms may be reserved by UC San Diego staff and students affiliated with a registered student organization.
Conference room requests must be received at least 24 hours prior to your event. Multipurpose room requests must be received at least 2 weeks before the event date.
Offices and public spaces located in the Student Services Center:
Level 1:
Level 2:
Level 3:
Level 4:
Level 5: