UC San Diego's Associated Residential Community Housing (ARCH) offers priority housing at the Mesa Residential Apartments to eligible undergraduate, graduate, and professional students who live with a dependent minor(s) age 18 and under, or who are expecting a child.
Families may also choose to live at Coast, One Miramar Street or Rita Atkinson, although without priority placement from the waitlist.
With a 30-day notice, you may also move within the communities.
Find out more information about the communities, including information about family housing here.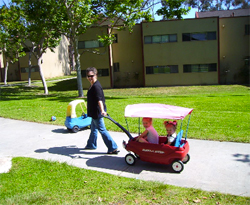 Community advantages
Families can enjoy monthly events such as continental breakfast, BBQ parties, ice cream socials, movie nights and craft nights.
There is a fitness room with regularly scheduled activities (including yoga).
The student-parent networks often organize events with fun child-centered activities. Mesa Housing is a short drive to the Canyonview, which hosts a weekly family swim program.
Mesa has two children's playgrounds, a student-parent and family lounge, plenty of grassy areas, and is the location of the UCSD Early Childhood Education Center.
If apartments are available, incoming student-parents may be eligible to move in as early as June 1 of the summer prior to fall quarter matriculation, giving your family time to settle in and get acquainted with the housing, UCSD, and San Diego community.
Student-parents may choose to rent the entire apartment as a single-family home, or share with family members or roomate of their choice.
Residents may request a complimentary carpet cleaning once per year.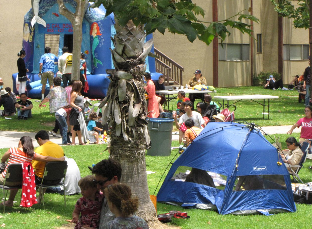 Academic advantages
Mesa Family Housing has a family-friendly study room with toys and activities and a quiet study room, both accessible 24 hours, 7 days a week.
UCSD shuttle stops are located at One Miramar Street, Rita, Coast and at three locations within Mesa.
Graduate student residents may remain eligible for housing while enrolled part-time for up to 4 quarters; undergraduate student residents may remain eligible for housing while enrolled part-time for up to 3 nonconsecutive quarters. Three quarters substitutes for your standard leave-of-absence entitlement. The fourth quarter substitutes for graduate students' last quarter part-time entitlement. Documentation of part-time status approval is required. Ask the housing office for additional information and assistance. 
Student-parents may stay at housing during the summer, even if you are not enrolled in courses.
Students may remain at housing for the duration of each approved leave of absence. Documentation of approval is required. 
For the summer quarter after graduation you may be eligible to stay in your apartment through August.
Financial advantages
Rental rates are generally lower than local rates of the La Jolla area.
Undergraduate and graduate students with children are eligible to rent a full apartment on a month-to-month basis for the duration of their enrollment as a full-time student.
Rent is charged directly to your student account, which may help access your financial aid for rent payments. (This depends on your financial aid package.)
Residents may request a deferment of a month's rental payment for 30 days without a late fee up to 3 times per year. Deferments thereafter are charged a $20 fee.